Last week's inaugural OpenTeachingOU conversation was a big success, and we're looking forward to our next event on March 27. The topic for the event will be "Sustainability."
Sustainability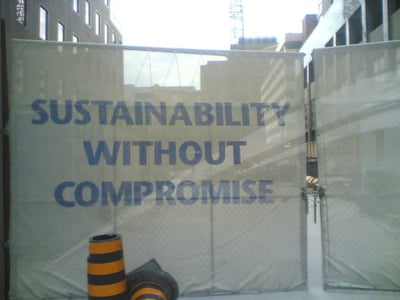 In thinking about the topic over the weekend, I found my thoughts focused primarily on "sustainable strategies," "sustainable effort," and "sustainable funding." These themes were further highlighted when I read McGraw-Hill Education's latest earnings report. In particular, I noticed that the company had "achieved an inflection point in its ongoing digital transformation by generating more cash revenue from digital products than traditional print products in its higher education business for the first time in 2014."
Indeed, business for major publishers is good. Revenues are trending up and digital products are hot. They have greater product flexibility and increased product focus.
Things looked much bleaker three years ago, due to a general industry stubbornness regarding digital business models, but publishers have reversed course and are making solid inroads with new products primarily because of a general focus on sustainability. In the publishing world, this means:
A focus on content mapping -- Increasingly, publishers are disaggregating their content and creating common mapping schemas that allow them to reuse their content more easily in a variety of products (as opposed to focusing on a single textbooks product).

A focus on content aggregation and distribution -- Publishers are moving beyond the textbook and are thinking now in terms of content blocks that can be aggregated into multiple product models and distributed easily across digital platforms. This means lower production costs and higher profitability over a wider variety of products.

A focus on content renewal -- Publishers have long been dedicated to editorial revision cycles, as well as content and design upgrades. With a shift of focus to digital products, revision and improvements are easier (i.e. lest costly) and faster.
Sustainable in Higher Education
As I look at this list, I wonder what we might learn when it comes to making open content more sustainable in Higher Education. Three things come to mind immediately.
Sustainability must be a core priority -- I believe that sustainability is a big priority for organizations such as OpenStax, but the general nature of open means that the broader OER catalog will always contain a majority of artifacts that are created by individuals and other organizations that are less concerned with long-term sustainability. Somehow, the broader community must adopt/promote a broader sustainability framework and find ways to promote and support it.

Mapping is key to flexibility, easy reuse, and distribution -- Market sustainability for OER means widespread adoption and mainstream use. In order to achieve those goals, however, open content must must become more discoverable within the granular context of courses. It must also be easier to combine and remix with other open content. This will require more than standard or shared metadata schemas -- it necessitates common tagging conventions -- shared taxonomies and vocabularies -- that can be used by librarians and other information managers.

Organizations must collaborate to support content renewal -- Content sustainability requires an overall community commitment to provide the necessary resources and funding to enable revisions and updating. This can be achieved through institutional coordination and crowdsourcing, but it cannot happen without the leadership of key universities and library organizations.