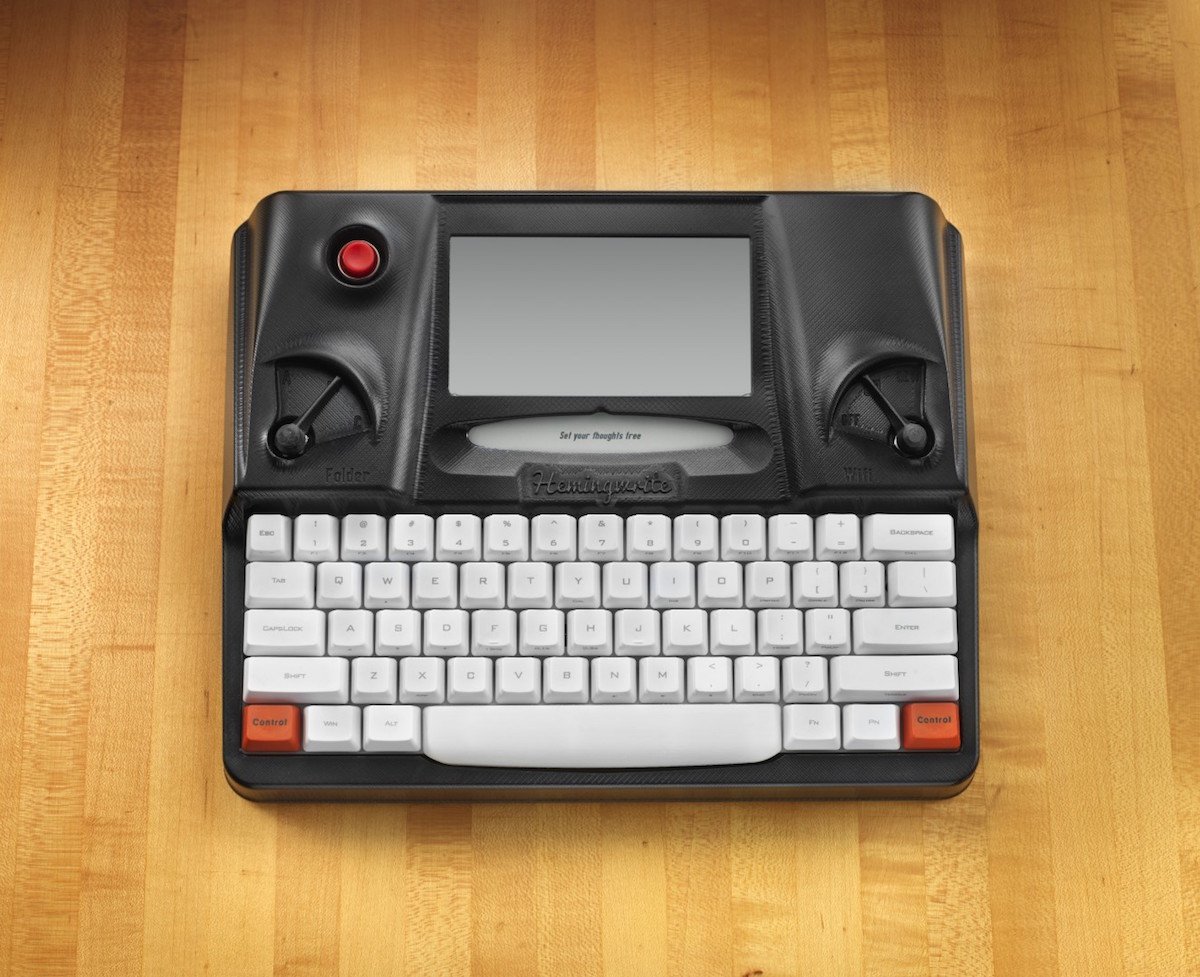 I like new, shiny objects as much as anyone, and the current object of my eye is the Hemmingwrite. It's a minimalist, digital typewriter designed to do only one thing and to do it exceptionally well — write.
Pretty cool, huh? The product is also interesting from an educational technology perspective because it reminds us of the precarious balance between innovation and tradition when it comes to getting user experience right.
Educational technology that got it wrong
Here's an example of an educational technology that got it wrong — e-textbooks. As Joe Wikert correctly pointed out this week, a strict translation of print form to digital has not been a great experience for today's students. For years, publishers believed that preserving the traditional product format — a linear, layout-is-everything approach — was the highest calling. However, as Wikert notes:
Until the market evolves from today's mostly print replica model and offers compelling reasons for students to go digital, including a more attractive price point, we're unlikely to see movement away from print textbooks.
In fact the kinds of decisions the folks at Hemmingwrite have made in creating their product — What do I keep? What do I throw out? What do I invent? — are what make or break most companies. Interestingly, they also make a nice backdrop for looking at some of the items of Gartner's Top 10 Strategic Technologies Impacting Education in 2015.
Notice item number two, for example — adaptive textbooks. This is a classic decision balancing "What do we keep?" — in this instance, the basic textbook format — and "What do we innovate?" The answer to that is, "We make it adaptive."
The proposed value of adaptive textbooks is a personalized learning experience for students. Through pre-assessments, knowledge checks, and personal preferences, the reading and learning experience is actually customized for each learner. There is certainly value to learner agency, although I wonder how valuable it really is to confine that agency to such a closed system.
Personalized learning
For many, adaptive is just another way of saying personalized. In it she discusses the subject through the lens of a recent report by the National Education Policy Center — "New Interest, Old Rhetoric, Limited Results and the Need for a New Direction for Computer-Mediated Learning." Responding to the notion that:
"personalized instruction" is built upon old metaphors of the personal computer from the 1980s. That is, we're still tinkering with "adaptive learning systems" and "intelligent tutoring systems" that are decades old and designed around individualized "content delivery."
Audrey writes:
We need to rethink, reimagine how technology can enhance learning - through collaboration and connectedness, for example. We cannot simply use newer technologies to make old practices of lectures and worksheets digital. That's not enough to transform school. And as the NEPC report highlights, that doesn't work. And it doesn't work, in part, because we know that those practices aren't the best analog pedagogy either.
Again, "What do we keep and when do we innovate?" And, just as important, "Why are we innovating?"
Along these same lines, I would highlight Stephen Downes update on the Learning and Performance Support Systems program. This is an initiative by Canada's National Research Council to "enable Canada's training and development sector to offer learning solutions to industry partners that will address their immediate and long term skills challenges." You can read more about the project here. Things I like about this project are its practical emphasis on personal learning design and its emphasis on learner agency within the context of community.
Another item on Gartner's list is "open micro-credentials," which is part of the larger discussion around degrees, badges and and the value of a university education. Many have weighed in on the questions of what we should keep and what we should throw out, but I like Bernard Bull's emphasis on creativity and flexibility with regards to the topic. In particular, he is attempting to map out pathways that "imagine and re-imagine learning and credentialing in a connected world."
Connected learning
Naturally, pathways are only possible in a connected or networked learning environment. And, as connected learning is a common topic on the NextThought blog, I thought I would close today's update with a link to this post from Hybrid Pedagogy. In it, the writers list qualities of a networked learning environment that are necessary for intellectual rigor and real critical thinking. The environment must be: engaged, critical, curious, dynamic, and derivative.
I like this list. I also think that if we create such environments and foster this kind of thinking in our institutions and companies, we will continue to come up with better answers about what we should keep and where we should innovate in education.
----------
Briefing Resources
The Hemmingwrite Digital Typewriter
Joe Wikert's Digital Content Strategies: Why Johnny doesn't like e-textbooks
Adaptivity Tops Gartner's Strategic Tech List for Ed
Half an Hour: Design Elements in a Personal Learning Environment
What is Personalization, Really?
Re-imagining Learning & Credentialing in a Connected World
Other Recommended Reading
New Research on Games and Classroom Assessment Practices
Virtual Reality is the Future of Career Education
Critical connections: power for your mind online
Collaboration: Key to Innovation