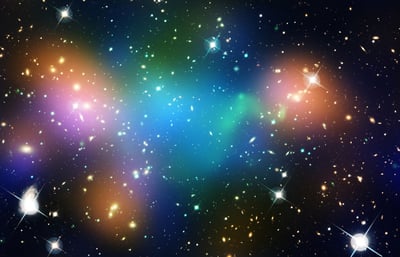 My experience at the 2015 ASU+GSV Summit last week reminded me of this great post on Dark Matter by Michael Peter Edson.
In it, Edson crafts an analogy between dark matter and the Internet. After describing the discovery of dark matter, he points to the fact that dark matter and dark energy make up more than 90% of all matter in the universe. That makes the visible part of the universe, the part we know, approximately 4%, seem paltry by comparison. It also means that the vast majority of the universe remains unknown to us.
Completing his analogy, Edson reminds us that the Internet, too, is comprised primarily of "dark matter," content and connections that are invisible to us, things we can't see and may not even understand. Not surprisingly, this makes it almost impossible to predict what's actually going to happen on the Internet.
That's why we're constantly surprised by new applications, new trends, and new companies. There are simply too many invisible variables and unseen network forces to make sense of it all.
Edtech...is tantalizingly promising and completely unpredictable.
The future of educational technology
Which brings us back to the ASU+GSV Summit. For me, it was a perfect display of the absolute uncertainty of the future of educational technology. It is a market of seemingly limitless possibility, yet one built largely on the the dark matter foundation of the Internet. This makes it pretty much impossible to know which significant companies or market trends will emerge. Edtech, in other words, is tantalizingly promising and completely unpredictable.
I saw three manifestations of this unpredictability at the ASU+GSV Summit.
First manifestation
First, as Michael Feldstein writes, "There is more money coming into the [edtech] market." That makes sense. Investment companies deal with the unpredictability of edtech by investing more money in more different companies. This spreads the risk and, ideally, increases the probability of payoff.
Second manifestation
At the other end of the spectrum, companies seeking investment seem to use the unpredictability of edtech to make almost any idea seem plausible. Michael reports that he "definitely saw plenty of stupid products that were funded, acquired, and/or breathlessly covered." I also saw my fair share of questionable products that had received funding. But, since no one really knows what's going to happen in this market, just about anything with enough shine and PowerPoint can be presented convincingly to someone.
Third manifestation
And then there are the large, established market players, such as major textbook publishers. When it comes to the unpredictability of edtech, they have a big advantage. That's because their size and market share means they can spend less time predicting the future and more time reacting quickly to the present. This won't make them innovative or wildly explosive, but it will keep them moving forward profitably.
Without a doubt, the uncertainty inherent in edtech is driving incredible activity and investment. For me, however, this market uncertainty, the unpredictability of anything so influenced by the Internet's dark matter, is simply a valuable reminder of what really matters for any edtech startup.
Learning.
You can't ever go wrong with that as your focus or with its improvement as your core mission.