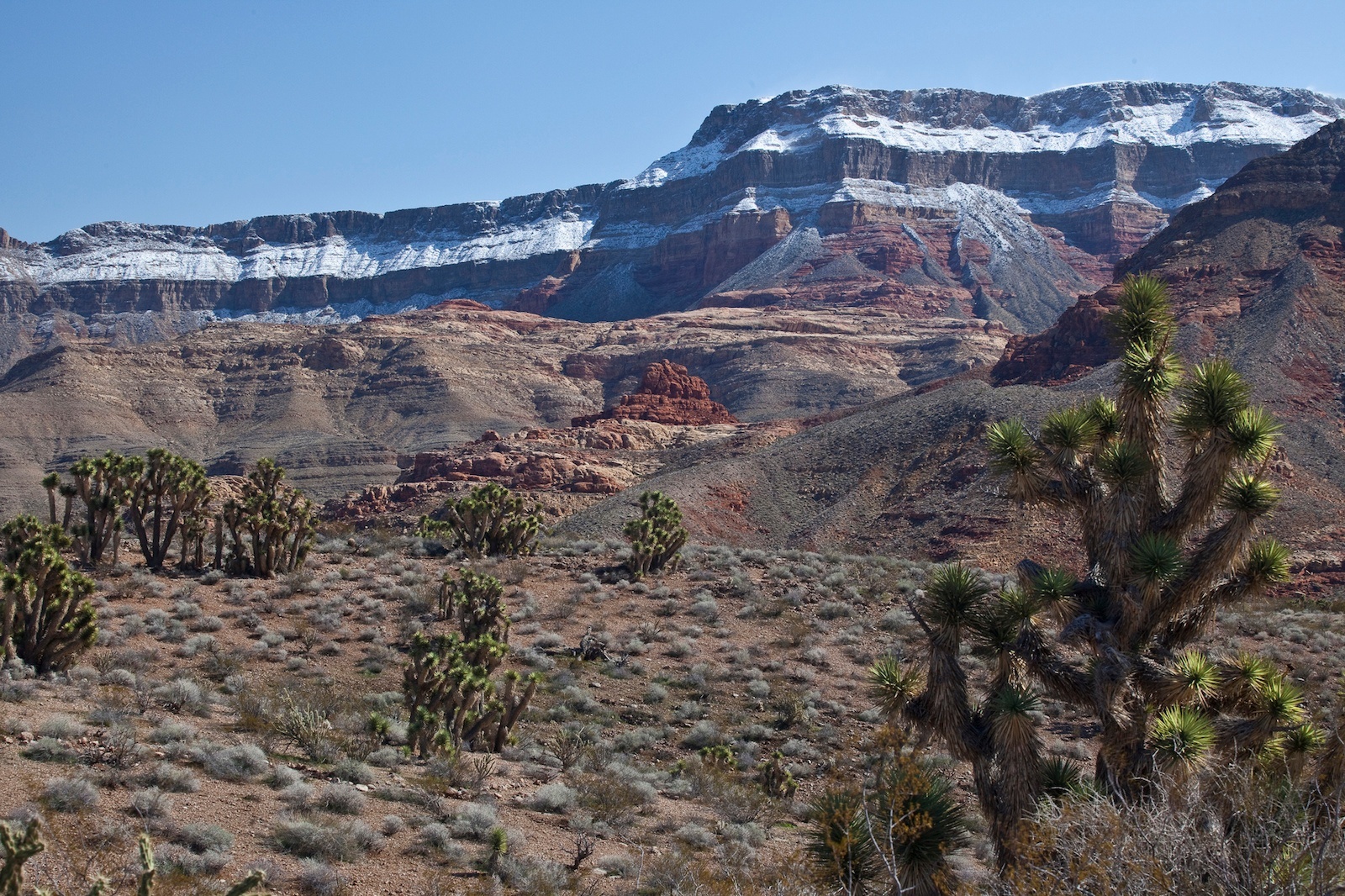 I wrote a post yesterday on our Power of Connections course blog about how we're exploring different ways to connect the traditional learning environment with the expansiveness and openness of the Web. As I wrote, while both are valuable and serve specific pedagogical requirements, we generally operate under the assumption that they are mutually exclusive. This is particularly true from a technology or platform perspective.
But are they mutually exclusive?
Closed vs open environments for learning
Traditional learning environments, or so the story goes, are designed to meet the enterprise needs of educational institutions, and so they favor "closed" architectures and course-centric designs. This allows them to address security and privacy issues as well as provide centralized administration. Open environments, on the other hand, favor networked-learning models and are generally decentralized. These often bring together many systems, and they rely on their users to create the connections between them through social media.
However, as I pointed out yesterday, treating them as mutually exclusive models can limit the learning potential of our courses.
Enduring learning is created 1) through active learner participation and creation, and 2) by generating the greatest number of connections – people, communities, and information resources – within a participant's personal learning network.
Utilizing both open and closed learning

environments

In our Power of Connections learning experience, we are looking at specific ways to better utilize the power of both closed and open learning systems as a way of expanding the potential of connected learning courses.

If we offer the course only in an open environment, we miss out on the audience/community that's more comfortable in traditional, structured environments. And if we offer the course only within a closed learning environment, we omit the power of vibrant, open learning communities across the Web. By addressing one framework at the exclusion of the other, we minimize the connected learning potential of the course.

In our Power of Connections learning experience, we are looking at specific ways to better utilize the power of both closed and open learning systems as a way of expanding the potential of connected learning courses. More specifically, we are focused on aggregating and connecting the conversations that take place across the two types of learning environments.

The NextThought platform is designed specifically for contextualized collaboration.
For example
This screenshot from Power of Connections shows how NextThought allows course participants to begin conversations and participate in dialogues on any content page within the platform – readings, videos, practice quizzes, etc.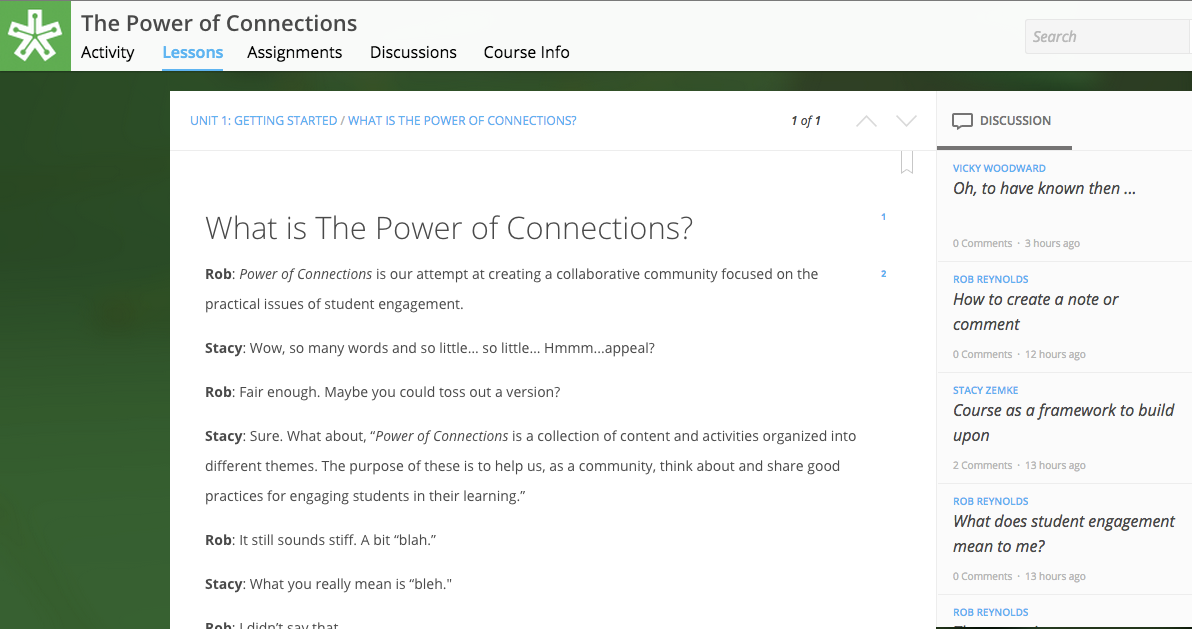 This allows collaboration at specific points of context and need, and it also fosters more engagement with the ideas being presented in the course content.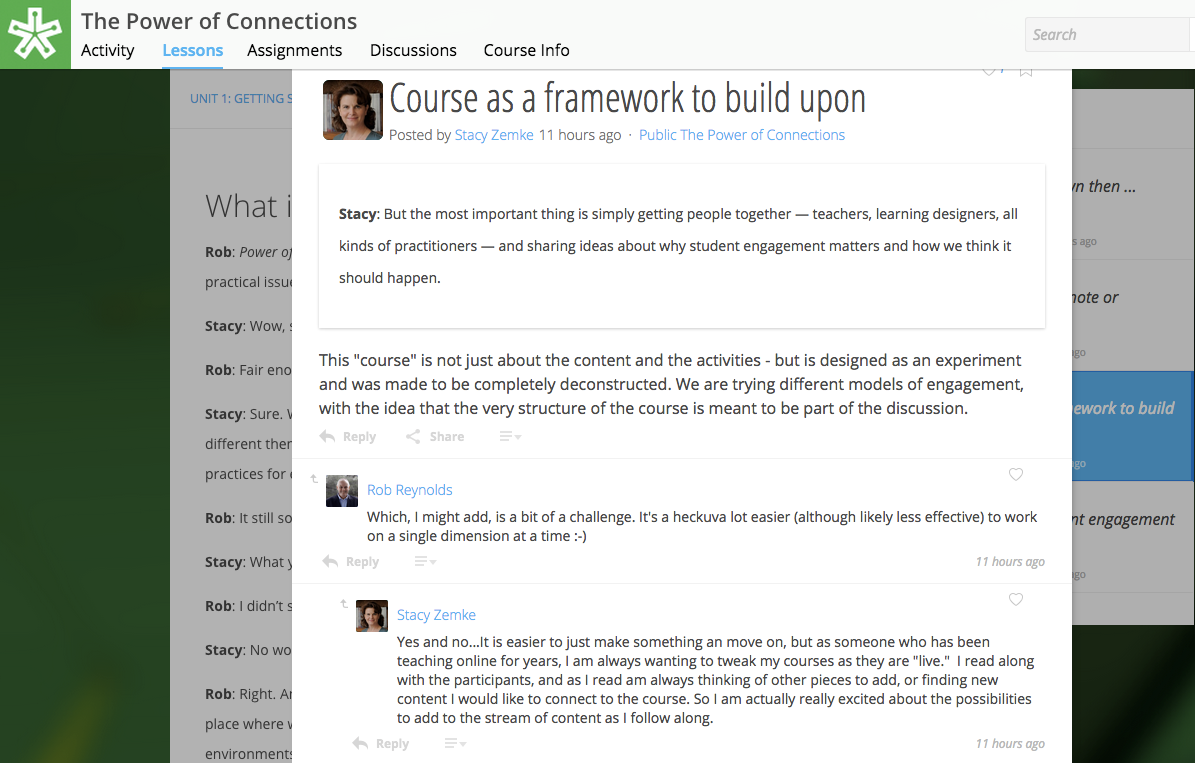 Within the NextThought platform, these comments and conversations can also be posted to group or community pages in order to expand their connectedness. While providing course communities is extremely valuable, we also recognize that learners come to courses with pre-existing communities and personal learning networks. If we confine users only to the available contacts and communities within our platform, we will limit their possibilities to connect and learn.
This is why we are looking for ways to allow NextThought users to connect as broadly and meaningfully as possible across their pre-existing networks while still enjoying the specific features – such as a course community – of a structured platform like ours.
One of our approaches to designing the NextThought platform around this core philosophy is so that we, as platform developers, can learn how to build ever-increasingly better courses. We view course interactivity as valuable feedback. This approach will afford us the opportunity to explore the best strategies for connected learning. Power of Connections is the first of these courses, and with it we are examining the best ways to open up our learning conversations.
To that end, we are also encouraging and tracking course conversations that occur outside our platform. The Twitter exchange below was related to the improvisation activity in the first unit.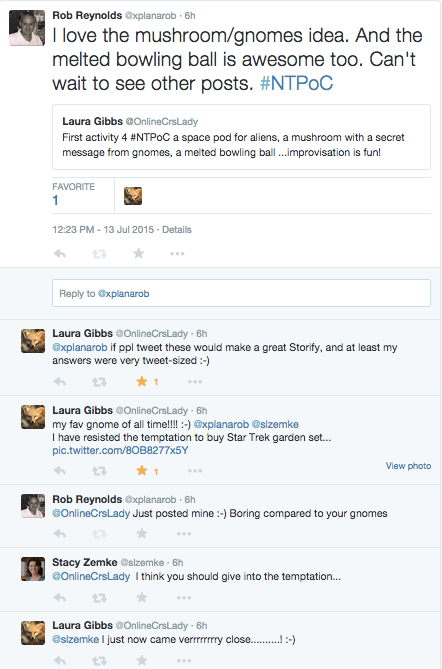 We are also posting content on blogs that are external to the platform, and we're tracking conversations around those on Twitter and G+.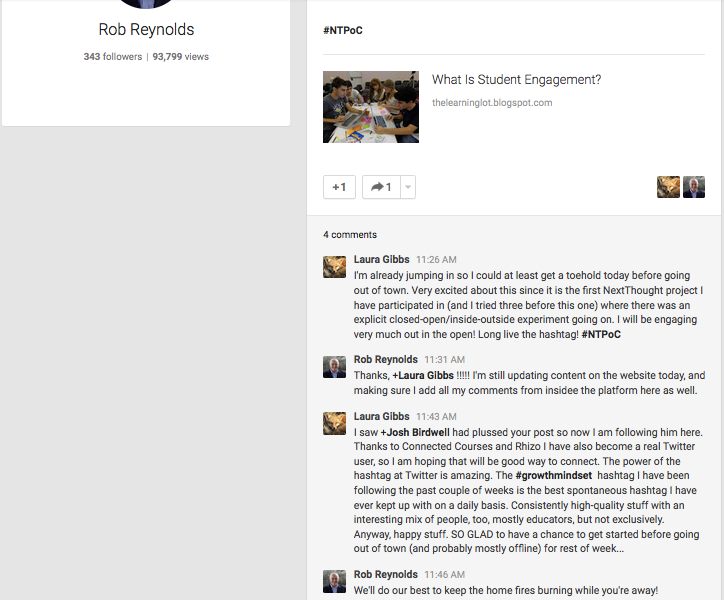 And just to make sure we reach the widest audience possible, we are also posting the core course content on an open blog to promote interaction outside our platform.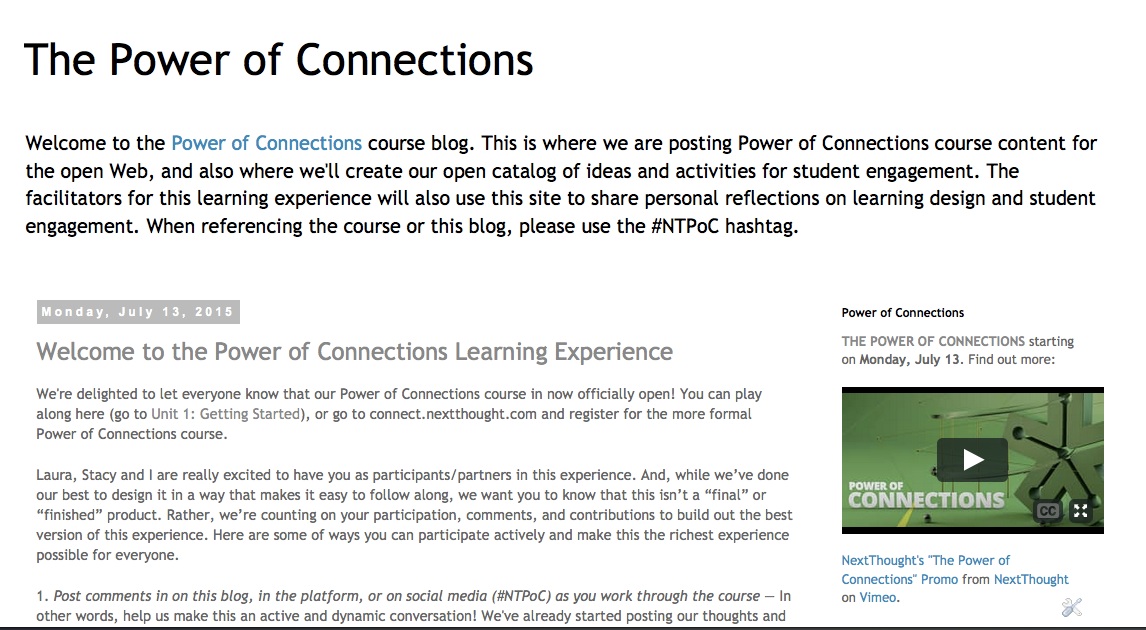 At the end of each week, we will aggregate all the conversations – inside and outside the platform – and we will share them with our users. We will do this through a #NTPoC RSS feed, Storify, and any other tool that makes sense.
Summary
Over the course of this learning experience, we will evaluate course conversations, social media conversations, and engagement trends. After that evaluation, we will begin adjusting and creating models to support what seem to be the most valuable connection pathways across the different environments.
When we're finished with this process, we will share our observations openly. We'll also begin adding new features to our platform to expand our support for building communities and connecting learners effectively to networks of people and information.