Join us for our #NTPoC Twitter chat this Thursday at 10:00 AM CDT. We'll discuss re-imagining our institutions with student engagement.
Connected-learning frameworks champion both learners and learning networks.
Framework for learners and learning networks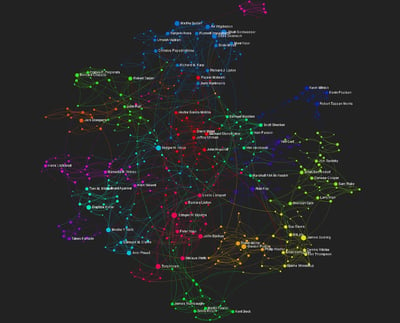 These frameworks differ from traditional approaches in that they put the learner at the center of the learning network. From that center, they create personal pathways that help the learner make connections with as many nodes as possible within the network – whether with information or with people.
And just as important, successful frameworks facilitate connections with new, external networks, because connected-learning models promote connections even beyond the learner's personal learning network (PLN) and immediate learning communities.
Challenges
But not surprisingly, this centrifugal, outward-flowing learning movement can present challenges for learning designers. This is particularly so if the designers are working within traditional online learning environments.
The main reasons for this are:
Traditional online learning platforms are designed with the course or the instructor at the center of the learning environment, and;
Traditional online learning environments – such as LMS and MOOC platforms – have a "closed" architecture that provides little support for external networking.
Supporting the solutions
Supporting existing and new network connections that lie outside the learner's PLN is a principal product design priority for us at NextThought. Our platform focuses on collaborative and connected learning, and we realize we must support both the traditional requirements of our institutional partners as well as the core requirements of connected learners and learning communities.
I'm particularly mindful of this requirement in light of a recent report from the Pew Research Center – Teens, Technology and Friendships. This study, from a survey given to teens aged 13-17, shows just how digitally oriented U.S. teens are when it comes to reinforcing and expanding their social connections. This information sheds light on how we can integrate students' digital orientation into our formal learning environments.
Here are a few data points from the study that stand out:
Teens are increasingly comfortable with creating new relationships online. According to the report, "57% of teens ages 13 to 17 have made a new friend online."
Teens keep up with and reinforce existing social relationships via social media. "72% of all teens spend time with friends via social media; 23% do so daily."
Teens interact with friends and other teens via interaction with online content (video games). "Teen gamers play games with others in person (83%) and online (75%), and they play games with friends they know in person (89%) and friends they know only online (54%). They also play online with others who are not friends (52%)."
"Social media helps teens feel more connected to their friends' feelings and daily lives, and also offers teens a place to receive support from others during challenging times."
It's obvious that teens are already using social media and other online tools to expand their networks and to connect with others. The question it raises for us is – how can we take advantage of this when we are designing online learning activities and learning environments?
Identify pre-existing avenues
These digital structures are already in place and we can use them. As learning designers, we want to identify pre-existing avenues that can take the natural, connected force of social networks and utilize them to support successful learning. We can incorporate them into our designs and find new ways to integrate them into our platforms so as to optimize learning engagement.
A good example can be seen with Twitter and, in particular, Twitter chats. For context, here is a Twitter chat from the #OpenTeachingOU series I collaborated on this spring with Laura Gibbs and Stacy Zemke (and here is a Storify recap of the event). These chats are useful in collaborative learning contexts because of their support for:
Organizational simplicity – Twitter chats are as simple as deciding on a time and a hashtag, and then sharing that information with all who might be interested in joining.
Synchronous/asynchronous activity – Twitter chats are effective because participants can join during the "scheduled" event (synchronously), but they can also continue the conversation at any point after the event (asynchronously). There is a beginning to these conversations but they remain dynamic.
Personalized participation – Participants in Twitter chats determine and control precisely how they wish to engage. They can choose which people and dialogues they want to listen to and join.
Natural, centrifugal introductions and connections – One of the most powerful features of Twitter chats is that they provide a natural conduit for meeting others in a non-threatening, low-risk environment. The fact that everyone is there for a common interest and common learning purpose – a community of practice – makes it easy for participants to flow comfortably into conversations with people they haven't met previously.
If you would like to know more about Twitter chats and their value in supporting connected-learning frameworks, you might consider joining us for our #NTPoC Twitter chat this Thursday at 10:00 AM CDT. We'll be discussing how we might re-imagine our institutions through the lens of student engagement.