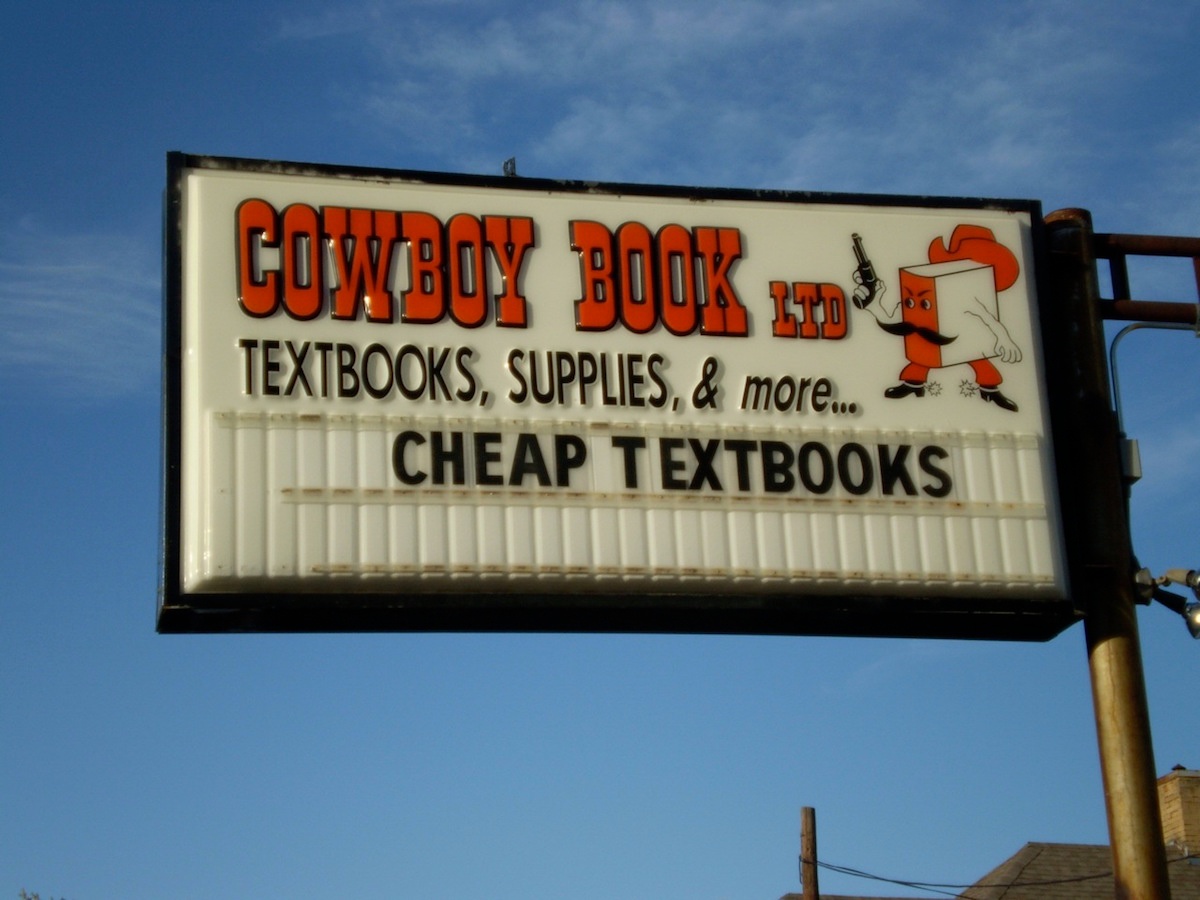 My wife recently went to the law school bookstore to purchase a book she'd studied while in law school. As she browsed through the textbooks she was shocked at the prices. She wondered if, given today's prices, she could have afforded to have attended law school.
Textbook pricing
The escalating price of textbooks is something we've all noticed. And at this time in the school cycle, we're seeing articles published bemoaning the high price of textbooks for students getting ready to begin fall classes.
And not surprisingly, the articles are reporting that textbooks cost more than ever this fall.
When the University of Michigan at Flint recently took inventory of the textbooks used by students during the winter 2015 semester, it found what American Enterprise Institute scholar Mark J. Perry called a "new milestone" in the textbook affordability debate: a $400 textbook.
Equally unsurprising is the fact that cost increases in publisher learning materials are providing continued stimulus for the OER and open textbook markets.
OpenStax College
OpenStax College published its first textbook three years ago. This fall, its titles will reach an estimated 200,000 students at 2,000 institutions. There are also multiple system-wide OER projects in U.S. higher education, along with a growing number of institutions that have expanding OER programs.
Even so, David Wiley points out that there remain obstacles to large-scale adoption of OER in higher education. The biggest problem, he says, is that when it comes to open content there's a significant gap in demand and supply.
Given that universities can have over 2000 courses in their catalogs, and there are sufficient OER available for something like 100 courses, there are still around 2000 courses worth of OER that need to be created – and constantly updated – before we can realize the vision of ubiquitous OER adoption across all of higher education (recognizing the narrow but important limits on replaceability I have outlined previously).

Foundations and other institutions funded the initial wave of OER production which, over the past decade or so, has brought the field of open educational resources to where we currently are. While this pattern will likely continue at some level, the funding and production models that successfully kickstarted the OER movement cannot possibly scale to provide an additional 2000 courses worth of material. This inability to provide enough OER to meet faculty and student demand is a critical obstacle to achieving ubiquitous adoption of OER across all of higher education. You can't adopt what isn't there.
Just like we're witnessing in trade publishing, there may be additional forces at play that could impact the textbook market.
Educational publishers
So, in spite of high prices, it would appear that educational publishers are relatively safe from seeing their business models disrupted, right? Well, not so fast there. Just like we're witnessing in trade publishing, there may be additional forces at play that could impact the textbook market.
Mike Shatzkin has an interesting post about the recent slowdown in book sales among large trade publishers and the possible forces contributing to that slowdown. He writes:
Recent data seem to show that, for the publishers, the growth in the retail ebook market has slowed down or stopped (at least for the moment), while Amazon's ebook sales apparently continue to grow. The share of the market controlled by the publishing establishment — the Big Five publishers and others — is starting to be slowly eroded.
Shatzkin points to several possible reasons for the lost business: 1) the rise of subscription services like Sribd and Oyster; 2) the increasing popularity of Kindle Unlimited and the fact that the Big Five publishers aren't participating and receiving revenues from the program; 3) sales of books that don't have commercial appeal are taking share away from those do. The bottom line, Shtazkin notes is that, while this is not a death-knell for any of the participants, it's certainly "a changing world for everybody."
The same could be said for commercial educational publishing. It's a changing world and there are important forces, both seen and unseen, that will likely have a negative impact on commercial textbook sales and a positive impact on the creation and adoption of alternative products such as OER and other affordable options.
Speaking of forces in higher education,
George Siemens' report form his recent attendance at a White House event suggests there are some interesting currents emerging. He reports that:
Higher education generally has no clue about what's brewing in the marketplace
No one knows what higher education is becoming
For-profits are antagonistic toward public higher education
Title IV is the kingmaker
In the future, universities will be more things to more people
In the future, corporations will be far more involved in higher education
The scope of change is starting to settle somewhat in higher education
Technology data
One interesting technology data point that indicates eventual changes in educational technology is
The decline of tablet shipments in Q2 of 2015. This, along with Gartner's report of declining PC shipments in the same quarter, supports the continued global shift to mobile computing (aka smartphones). Screen sizes will continue to shrink, demand for mobile-friendly content and applications will continue to rise, and educational technology companies that can embrace this shift will be sitting pretty to become global competitors.
Summary
Bringing this week's briefing to a close – while the beginning of the new fall semester is signaling the end of summer -- I'm reflecting on what a great summer it's been for learning and sharing.
I've certainly enjoyed my time participating in online learning experiences (
Rhizo15), as well as teaching them (Power of Connections). More than anything, however, for me this summer has been one of exploring student engagement.
And on that theme, I would point to three worthwhile events.
First, Dan Meyer posted a summary highlighting the reflections he's been sharing in recent years on modeling in mathematics education. In addition, Alan Levine has created a fun and creative bank of student-creation activities called the Daily Try, which is part of the UdG Agora Project. And finally, I was honored to share many of my reflections on student engagement at the Big XII Teaching and Learning Conference last week.
----------
Briefing Resources
Triaging Textbook Costs --
https://www.insidehighered.com/news/2015/08/04/era-400-college-textbook-affordability-initiatives-take-utilitarian-approach
An Obstacle to the Ubiquitous Adoption of OER in US Higher Education -- http://opencontent.org/blog/archives/3941
The publishing world is changing, but there is one big dog that has not yet barked --
http://www.idealog.com/blog/the-publishing-world-is-changing-but-there-is-one-big-dog-that-has-not-yet-barked/
AAP Reports eBook Sales Down 9.3% in First Third of 2015 --
http://the-digital-reader.com/2015/08/06/aap-reports-ebook-sales-down-9-3-in-first-third-of-2015/
White House: Innovation in Higher Education --
http://www.elearnspace.org/blog/2015/08/03/white-house-innovation-in-higher-education/
Blackboard Potential Sale: Market timing, financials, and some thoughts on potential buyers --
http://mfeldstein.com/blackboard-potential-sale-market-timing-financials-and-some-thoughts-on-potential-buyers/
Tablet Shipments Fall 7 Percent in Second Quarter of 2015 with Apple Leading the Decline --
http://campustechnology.com/articles/2015/08/05/tablet-shipments-drop-7-percent-in-second-quarter-of-2015-with-apple-posting-largest-decline.aspx
Gartner Says Worldwide PC Shipments Declined 9.5 Percent in Second Quarter of 2015 --
http://www.gartner.com/newsroom/id/3090817
Creating Powerful Learning Experiences: Big XII TLC Keynote --
https://nextthought.com/thoughts/2015/08/creating-powerful-learning-experiences-big-xii-tlc-keynote
Literally Everything I Know About Modeling With Mathematics [SMP 4] --
http://blog.mrmeyer.com/2015/literally-everything-i-know-about-modeling-with-mathematics-smp-4/