Recently, I've started sharing concrete examples of how we at NextThought are using a connected-learning philosophy and technology framework to create and enhance hybrid and online learning programs.
Hybrid and online learning programs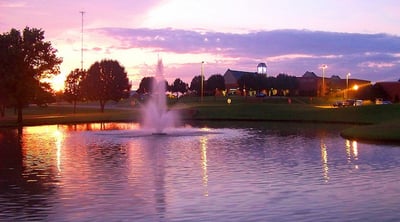 For instance, at the university level we're helping Oklahoma State University deliver dual-purpose MOOCs that maximize the potential of combining on-campus for-credit students with open students who are part of the university's land grant mission outreach. And in the K-12 segment, we've announced our plan to launch The Parents Network, which will leverage multi-layered communities and collaboration to facilitate the involvement of parents as success coaches who are part of their children's formal education.
In this post, I want to share the work we've been doing in partnership with OC's Professor David North to create and deliver a connected-learning hybrid education experience at Oklahoma Christian University.
The Idea
When we first discussed the possibilities with David, he expressed a desire to move the Computer Science program at OC to a cohort-based model. He wanted to take advantage of cohorts to create a greater sense of community and identity for his students. As we elaborated this idea with him, the following formal goals emerged:
Create a cohort learning model for the OC Computer Science degree program;
Design a curriculum framework that is founded on a set of 12-15 general core computer science principles that can be elaborated in individual courses over the span of a degree program;
Launch a "Software Engineering 1" course for first-year computer science students that's framed around the 12-15 core principles;
Create community interaction between first-year students and third/fourth-year students to provide different perspectives on how the understanding of these core computer science principles evolves over the course of a degree program;
Create community interaction between the first-year computer science students and university alumni who currently work in the field of computer science.
As we examined these goals, a number of likely benefits became apparent:
It is much easier to plan a large-scale learning interaction of this type when you have a common set of curriculum principles to serve as a foundation;
Using a traditional cohort model that is enhanced through online collaboration and community interaction can be a powerful hybrid model that provides the perfect blend of face-to-face and online learning;
The use of interconnected communities offers a positive and natural amplification potential for the cohort model;
Executed effectively, this model provides built-in alumnification and a powerful learning lifecycle that keeps university participants engaged and connected at every level.
First Iteration and Observations
For the first iteration of the "Software Engineering 1" course, David opted to focus primarily on the interaction between first-year students and the "Computer Pros," a group of approximately 30 OC computer science alumni who are active professionals in the field. He also invited upper-division students from the university's computer science program to participate, although the interaction from this group was less structured that of the Computer Pros.

The primary interaction between the first-year students, the upper-division students, and the Computer Pros consisted of participation in weekly online discussions on topics ranging from cybersecurity to web app development. In the animation below, we can see how the interactions between the communities developed. Maroon nodes represent first-year students, silver nodes upper-division students, and green nodes alumni.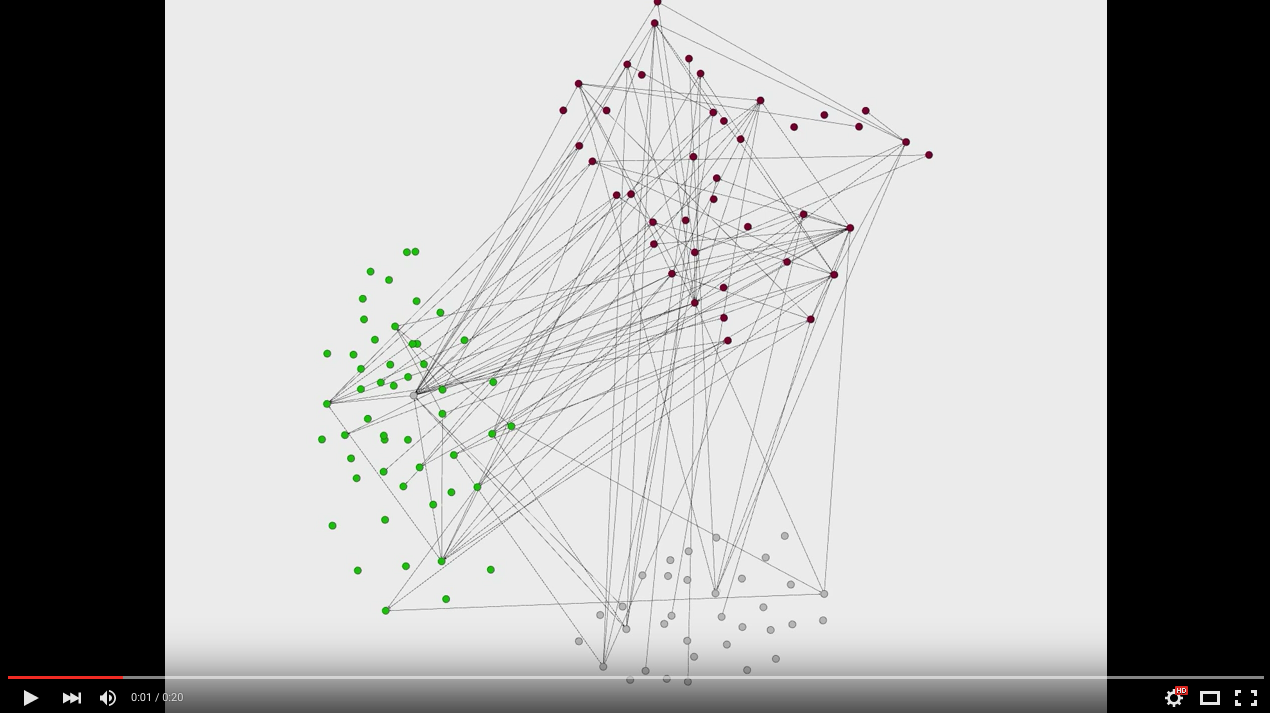 A few immediate trends stand out from this first course offering. First, we see that, in general, connections between members of different groups (inter-group connections) are more common than connections between members of the same group (intra-group connections). The greatest number of intra-group connections occurred within the Computer Pro community, which is not surprising considering that this is a more fully formed community of practice.

Another trend we see is that posts by the Computer Pros community often provided deeper, real-life models of the course principles and, as a result, elicited longer and more thoughtful responses from first-year students (compared to responses elicited by posts from other first-year and upper-division students). This is consistent with patterns we see in other connected-community courses where an outside community brings greater expertise and perspective to the learning environment.

Finally, the relationships between students in the first-year cohort and Computer Pros also established clear and tangible pathways for possible future employment. NextThought CEO Ken Parker, an OC alumnus and a member of the Computer Pro community says, "I was certainly evaluating the comments from different students with an eye toward future intern candidates. For a software company like NextThought, this was a great opportunity for finding new developer talent."
Moving Forward
Having proven the effectiveness of the basic model with high levels of student engagement and satisfaction, David is now looking to expand program offerings and to evolve this connected-community model. We're excited about the opportunities afforded by this model of a hybrid learning program, and we look forward to exploring the possibilities further with the Oklahoma Christian program. We are also enthusiastic about the promise of this and other connected-community models for fostering an alumnification lifecycle that benefits students, departments, and institutions.