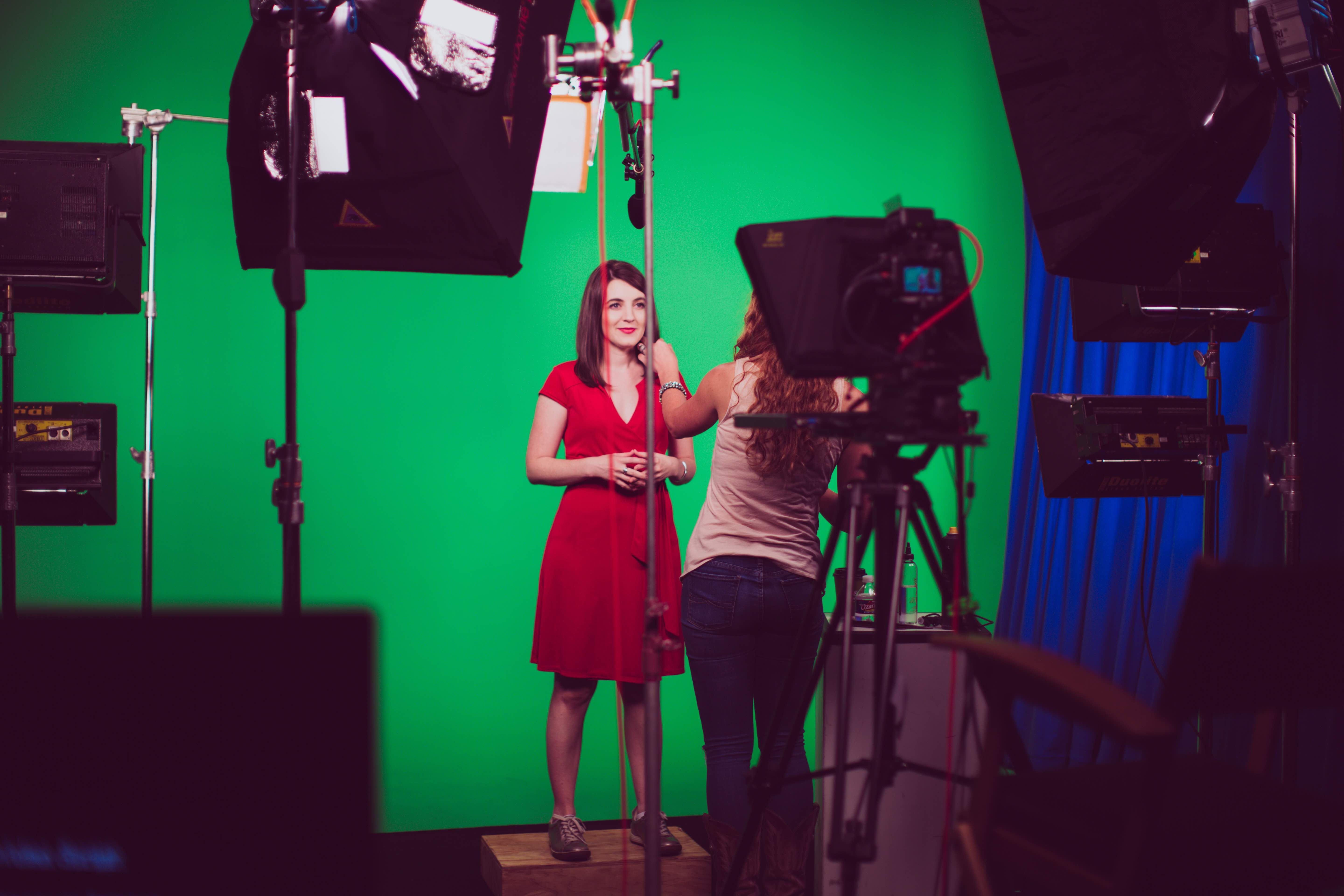 Here's some good news – content is not the problem.
The difference between online courses that are static and dull and online courses that are dynamic and interactive is seldom a result of the content. The solution to designing engaging experiences that produce sustainable learning is usually not about the content alone but is about finding the proper combination of content and the frames and connections we apply to it.
Finding the proper combination
This is good news because a majority of our time, energy, and money spent developing online courses is related in some way to content. It would be discouraging to think that all this investment might be wasted or that we would need to go out and curate or create new content to achieve our goals. Thankfully, the key to course transformation for collaboration and sustained learning is primarily related to how we frame or combine content as opposed to the content itself.*
Using video
Perhaps the best way to illustrate this is with video, a fine medium that can be used both for telling and showing information. Unfortunately, video can get a bad rap as a learning content format because it's generally deployed as a stand-alone object within passive contexts, mostly as a virtual substitute for the traditional classroom lecture. It's used all too frequently as an inferior copy of a teaching method that's already extremely "lossy" – meaning that only a fragment of the original information packages reaches learners.
Like any learning information format, the effectiveness of video can be extended considerably by placing it within a more dynamic content activity framework, one that supports optimized collaboration and reflection. This shift allows course designers to greatly extend the impact of video as an information source without trying to make it serve learning purposes for which it is ill-suited.
The diagram below provides an example of one such content activity framework or template we're using with a number of partners. This template takes existing video content and uses it to facilitate a learning experience that's collaborative and delivers sustained reflection. This model helps move the concept being presented from being just information, or "abstract," to being information that's been personalized and has real-world application, or "concrete." A second progression afforded by this template is the transition from passive information consumption to active learning participation.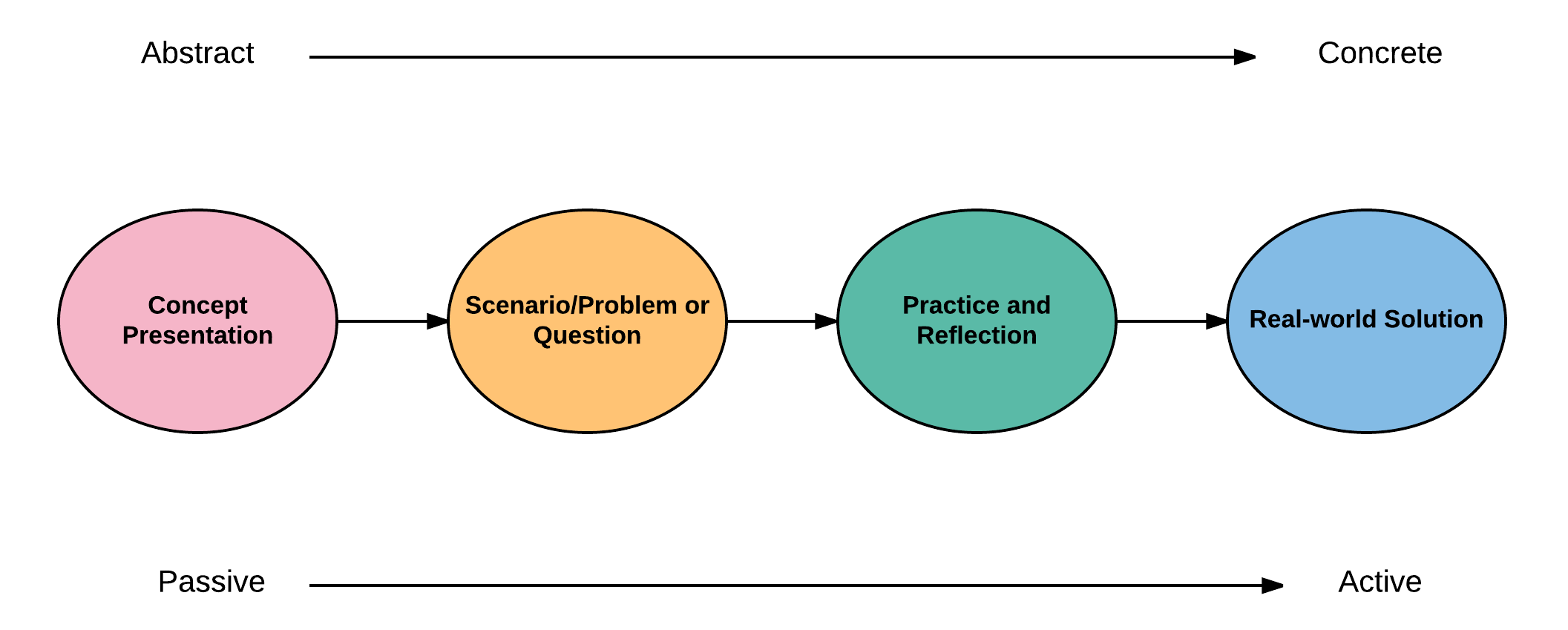 We show the same template, with greater design detail, in this LEML diagram.

Using this template, we can take an existing, talking-head video that has an expert explaining a concept and place it at the beginning of the content activity. We can frame that video, either before or after, with text and images that present a problem or scenario based on this concept. We follow our problem/scenario by asking participants to present their own solutions and by asking them to comment on the proposed solutions. Finally, we end the template sequence by presenting a real-world solution, easily pulled from open or public content sources with no additional content development cost.
This content activity template allows us to transform the learning experience by re-purposing our existing content within a new framework.
The benefits of this effort
1) Learning enrichment without technology complexity – The template is not dependent on a specific learning environment or technology tool (this is a requirement for all of our content
activity templates). It can be used to re-purpose video in online courses but can also be used to redesign the delivery of face-to-face presentations.
2) Content enrichment without additional content production – This solution is also extremely cost-effective. A school or company that has invested in expensive video production is unlikely to be excited about spending additional money on content development. This template allows educators to re-purpose existing content and to create simple design connectors or frames that transform the experience.
3) A framework that promotes collaboration and personalization – Too often, course designers and instructors think of collaboration and engagement as something that requires specific technologies. The reality is that, with smart learning design, we can use existing content to create collaborative and personalized learning experiences that are low-tech or technology agnostic.
4) Sustained learning activity – The model provides a framework in which information is put into personal practice by course participants. This, along with peer collaboration, makes the information actionable and meaningful, which translates to knowledge that's likely to endure.
*I am not unaware of the value of content that is well organized, presented clearly, and that engages a learner visually. However, learning design frameworks within which we place our content offers more scalable, sustainable, and extendable learning impact.