I'm presenting today at the T-Summit 2016 in Washington D.C. This is a conference focused on building interdisciplinary knowledge and collaboration skills in STEM learners at our colleges and universities.
Using
LEML
as a shared language
My presentation is about using LEML as a shared language for designing lessons and curricula that can facilitate the development of T-shaped learners. During my session, attendees will learn about Learning Environment Modeling, be introduced to LEML and some basic design guidelines, and then build their own models for interdisciplinary collaboration.
As part of this experience, I also wanted to provide an example design model based on the work David North has been doing with the redesign of his Computer Science program at Oklahoma Christian University.
The stated goal of this learning model is to create a T-shaped learning experience in a first-year, face-to-face Computer Science course. The baseline model shown below is a preliminary iteration:

In this model, the lesson begins with an out-of-class reading or video intended to contextualize learners with a real world example of the concept being studied. Learners are also guided through a reflection activity. The purpose of these activities is to make the concept more relevant to individual learners and to allow them an opportunity to see how it's applicable to their personal experiences or interests.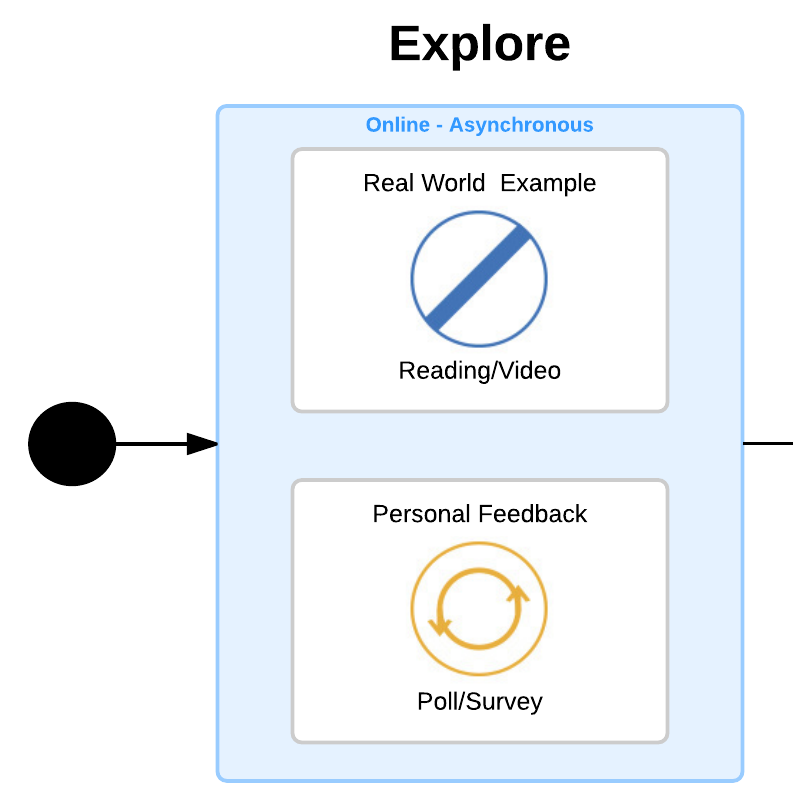 From this "Explore" stage, the lesson moves to the classroom where the instructor and learners can elaborate the concept and then apply their understanding in a hands-on activity. This is followed by a second elaboration of the concept, focusing on broad interdisciplinary applications based on this concept, which helps complete the learning cycle and prepare learners for an assessment.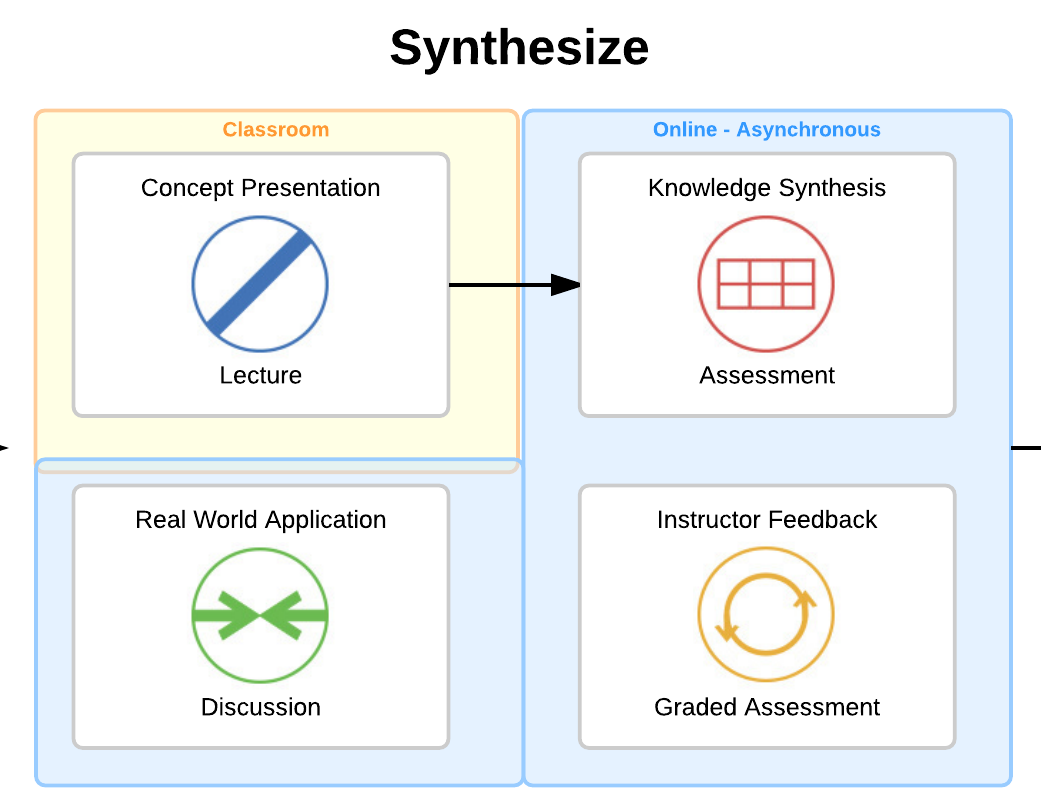 This is certainly a good start, but David added a wrinkle by introducing the requirement that first-year students in the program have interaction outside the cohort. In order to accomplish this, he recruited 30 computer science alumni who are active professionals in the field to assist in the project, and he also asked for volunteer participants from his third-year students.
For the final concept discussion in each lesson, he invites his "Computer Pros" and upperclassmen to respond to a question regarding the concept being studied, and then has the learners in the class engage with those responses.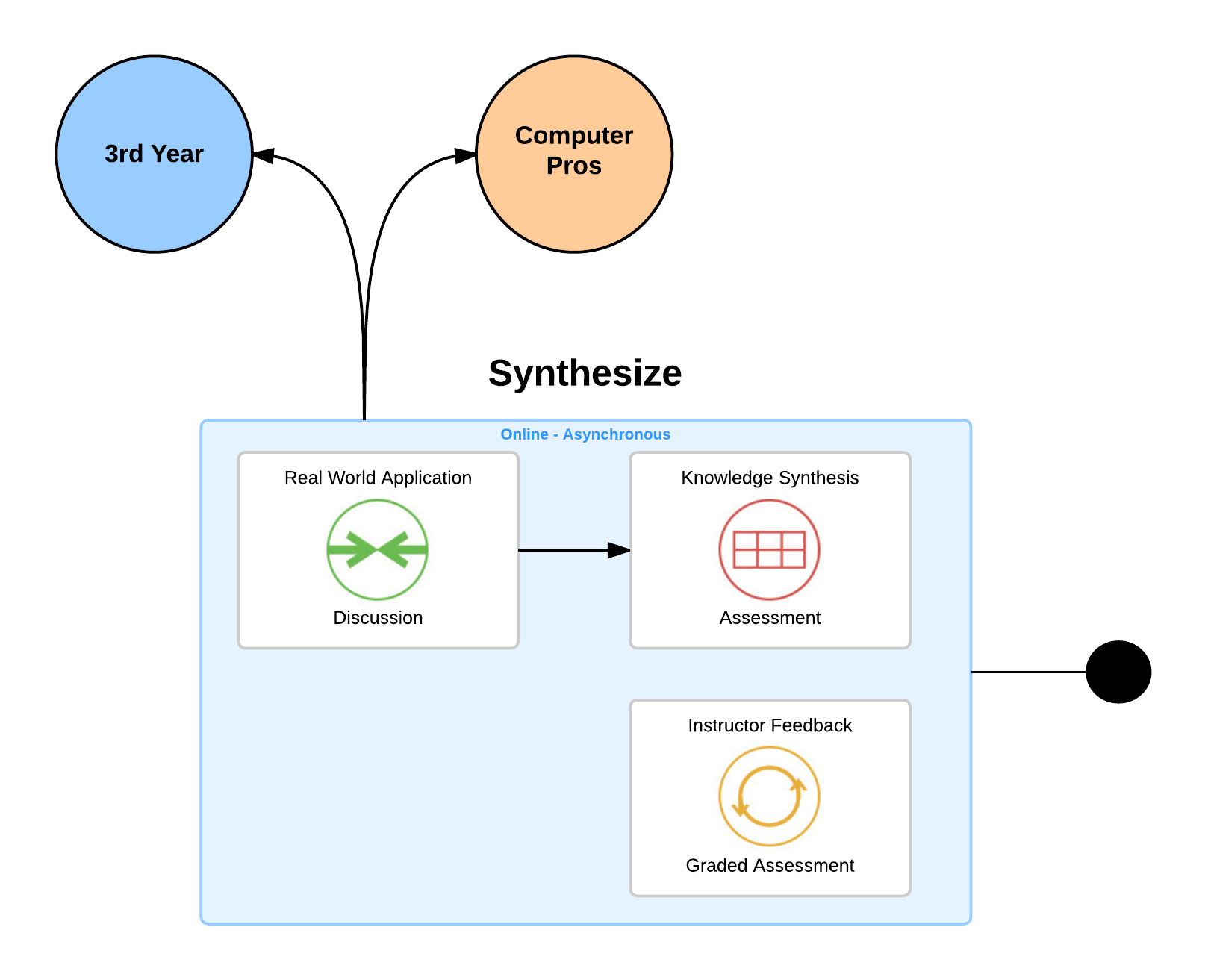 Another possibility for enhancing this model would be to change the concluding assessment to an activity that creates more agency for the learners. One option for this is to have learners create blogs/portfolios and use those to display design/code samples. The advantage of this approach is that, while producing work that can be evaluated by the instructor, it also encourages learners to construct actual examples of their knowledge and do so in a way that's shared with others. This also makes it possible to incorporate broader feedback into the learning experience.