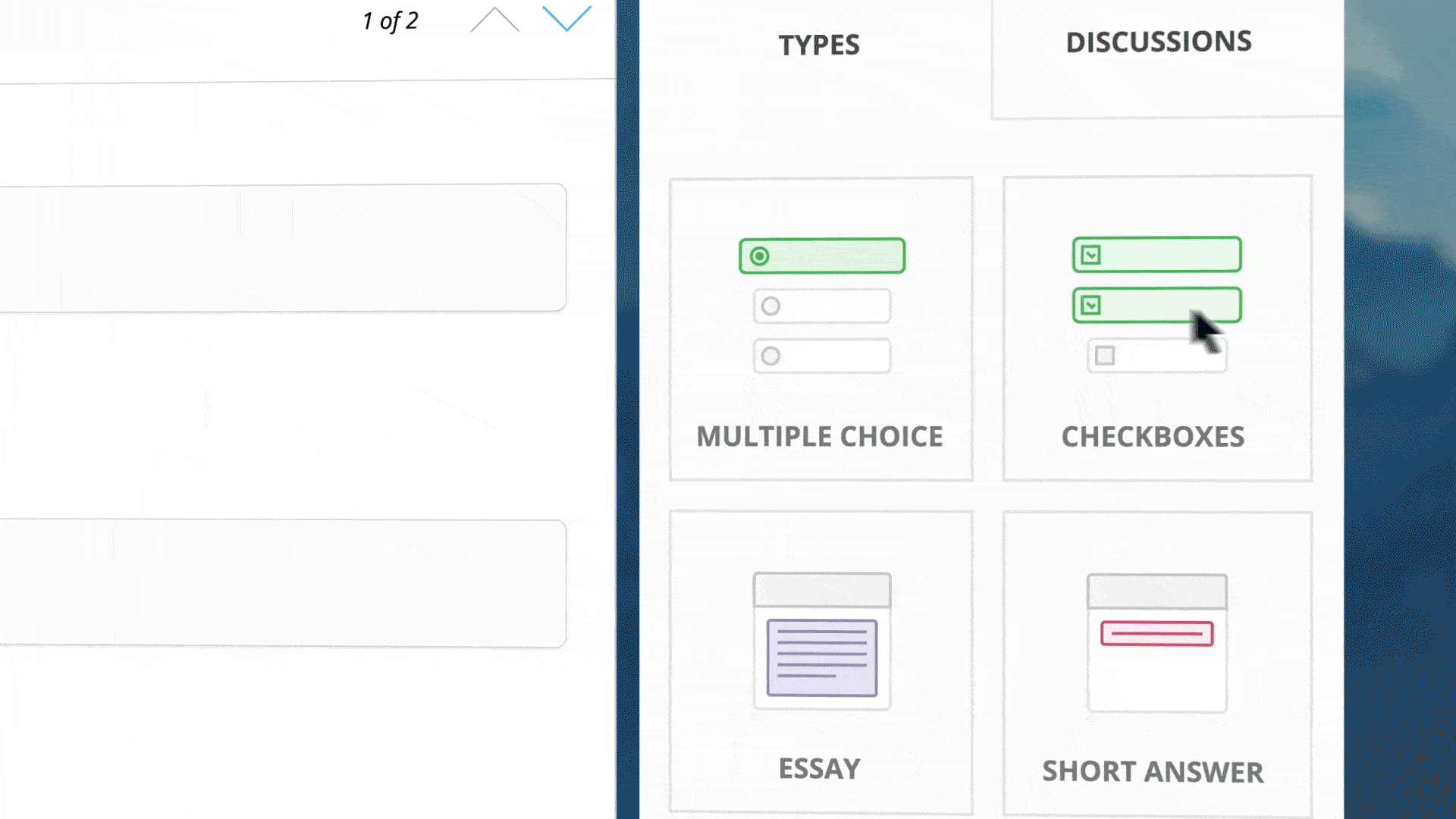 Associations tend to view continuing education courses in a very mechanical way. Information is sent, received, and learned. So what's the problem?
It's inflexible and not a very pleasant way to learn.
Most online training programs don't allow participants room to dive deeper into specific topics or focus on more useful courses and skip those that are nonessential. That can make programs feel long, boring and unattractive.
The goal is to encourage completion and interest in further professional development.
More of today's lifelong learners and working professionals looking for specific, individualized skills are either foregoing formal credential programs or they are seeking DIY solutions from around the Web. This approach, although it appears more tailored, is time-consuming and not easily accessible. Frankly, it's just not efficient.
So what's the fix?
Associations have a huge opportunity to transform current certificate or credit-based continuing education programs that fit the needs of members' already busy schedules.
Types of Continuing Education Programs
Before you make any changes to your association's elearning programs it's important to understand current offerings.
Certification Programs
Certificates of completion are issued to participants upon having completed an education institution's lessons, quizzes, and participating in discussion forums. Specific requirements and order is set with little to no room for personalization.
Continuing Education Credit Program
These programs, once completed, issue hourly-based credits towards annual professional certification requirements or educational institution degrees.
Attorneys and CPAs, for example, are required to complete a certain number of hours of coursework annually to maintain their licenses. On the other hand, a college student may attend web-based classes to earn credits towards a particular degree.
Individual Competency Programs
These programs are designed to provide professionals and lifelong adult learners with the option to choose which continuing professional education units are most relevant to their needs. More importantly, learners don't need to spend time on nonessential skills and areas of learning.
Summary of Differences
Certification and continuing education credit programs are not without merit, but for professional and lifelong learners, they don't provide a level of flexibility many find attractive. Their limited time between work, family and life is valuable. They want to make sure that the time spent on programs have immediate application and show results.
Traditional learning opportunities are a step-by-step process that are generalized to meet job field needs. This leaves exact real-world application of the required material unclear.
Individual competency programs, on the other hand, provide learners the ability to acquire knowledge and skillsets that are immediately useful to them without having to sit through elearning modules that just aren't relevant.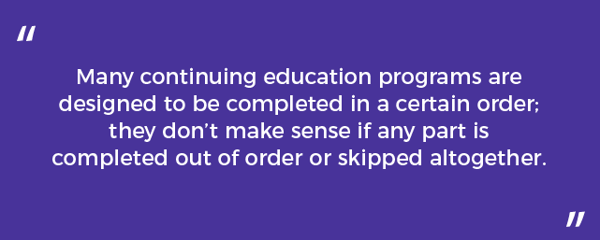 How to Create Highly Engaging Continuing Education and Training Programs
There are a number of ways associations can revise their elearning and online course programs to attract a larger group. Let's take a look at a few effective ways to create the most engaging CPE programs for your members.
Determine Which Specific Skillsets Are Valuable To Your Members
Perhaps the most obvious way to begin a program re-design is to conduct market analysis to determine specific competencies that are of high value to association members.
This provides the association with a "demand" list that can be compared to current offerings and used to either supplement or replace them to create individual skill and training programs.
Evaluate Your Existing Elearning Programs & Identify Specific Skills
Once you've determined which expertise are of the highest value to your members, it's time to leverage your existing e-learning opportunities.
Start with what you currently offer. Some may already meet your list of in-demand competencies, so you may not need to do a lot of adjustment. Don't get caught in the trap of re-inventing the wheel if you don't have to.
Next, take a look at programs that have a gap or two. Rework those to address the needs of your members. Look for information, practice and evidence gaps to offer a more comprehensive experience.
Reorganize & Restructure Existing Continuing Ed To Reflect A Set Of Stackable Skills
Here's where the rubber meets the road.
Many continuing education programs are designed to be completed in a certain order; they don't make sense if any part is completed out of order or skipped altogether. You can't skip around or customize the experience.
The goal for creating flexible and engaging individual competency programs is to avoid these dependencies as much as possible. Create a program that consists of stackable skills. Yes, some skill sets require completion of certain learning modules. But the idea is to remove as many of these roadblocks as possible, allowing users to focus on just the specific modules they need.
Create Practice, Evidence, And Feedback Specific To Each Skill Set
Using stand-alone units means you'll have to create standard templates for practice, evidence and feedback elements that, when combined, clearly show understanding, competency and mastery for a particular skill set.
Educational Video Content
An overwhelming number of educators agree video is a highly effective tool for learning optimization, particularly for millennials. Video allows for a more personalized experience as participants connect content with a voice and a face. Plus, with video, you can use elements like animation to illustrate concepts in a dynamic, creative way that keeps learners engaged.
Don't overlook the possibilities for expanding this connection using participant-created introduction or feedback videos. This allows for immediate reactions and feedback.
Incorporating video allows learners to move at their own pace and they can revisit key concepts on demand. Viewers can skip segments that cover areas in which they've already demonstrated mastery.
Community Collaboration
If your individual competency program is designed to foster opportunities for collaboration, you'll stimulate personal inquiry and genuine participant conversation which can lead to innovation and faster skill mastery.
Quizzes
Quizzing participants is a hugely effective way to provide benchmarks for how well they're grasping the material.
Learning Management System ("LMS") software applications can randomize question and answer sequences which is especially useful when re-testing material. This also allows for a wider variety of questions since you can create a bigger pool of queries rather than repeating the same questions.
Display level achievement to keep your members engaged and moving through the coursework.
Provide Options For Members To Earn Continuing Education Credit By Creating Packages Of Specific Skill Sets
Consider bundling education units that package-specific competencies and, as a whole, allow learners to earn continuing education credit.
A good Learning Management System (often cloud-based and abbreviated as "LMS") records the participant's progress and assigns a unique digital ID code for each certificate.
By incorporating packages like this, you're more likely to attract a diverse group of professionals seeking education credits they can build on as well as those seeking mastery in a particular skill set.
An Engaging Continuing Education Program Requires an Engaging LMS
Here's the thing. None of this makes much sense unless you're working with a sleek, compelling, and user-friendly Learning Management System.
Your LMS should be easy to use. The last thing you want is a complicated environment that is confusing to users. Any point of frustration or areas that require an excessive amount of time are a turn-off. Members' time is limited and should be valued. Remove as many barriers as possible to maximize members taking advantage of your continuing education program.
Your LMS should be enjoyable to use; you want to keep your members engaged through the process, incorporating entertaining elements.
Hire the Best, Most Creative LMS Pros
NextThought goes above and beyond the standard Learning Management System by offering comprehensive learning management solutions.
Our learning platform lets you customize solutions so your members get the most engaging and personalized e-learning experience. We offer turnkey solutions designed by our talented and experienced learning design team to help you deliver engaging and collaborative experiences for your members.
Our video production team specializes in high-end animation and other media services to create the most engaging, learning-specific video styles.
Learning matters. If you want to engage learners, build community and deliver value, let's talk.