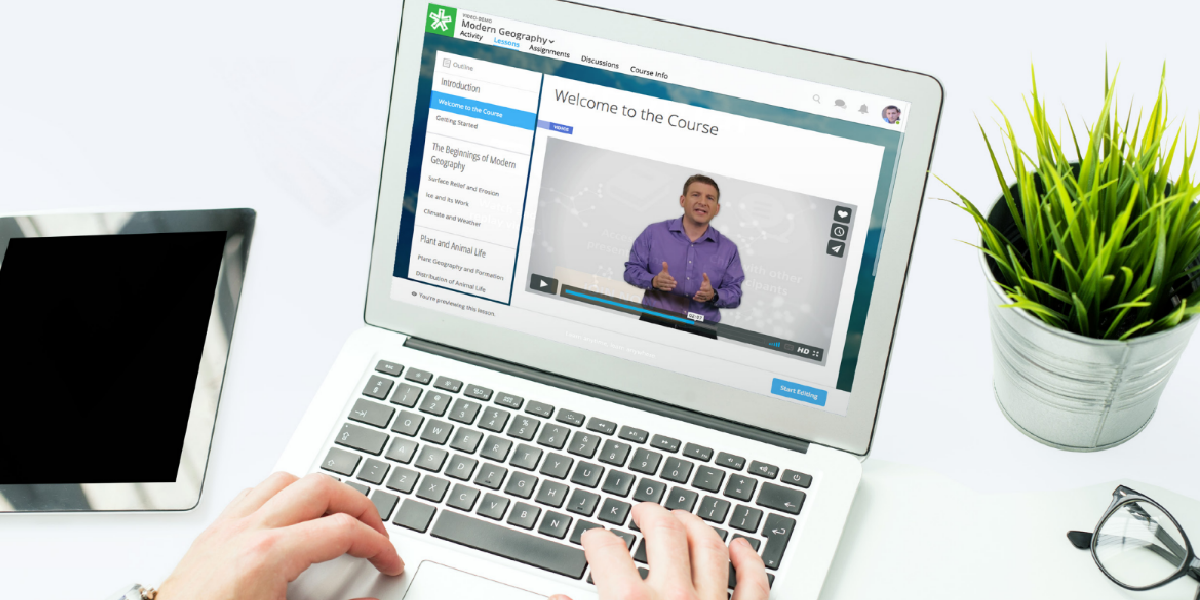 Many of the association strategies that worked 20 years ago don't work today. Old methods simply don't apply to a new, tech-savvy generation of professionals.
Innovative associations are keen to this fact and are exploring new opportunities for educating their members. There are three specific areas of emerging opportunity:
You must attract millennials.
Media and personalization are crucial.
How you facilitate communication can make or break you.
So how can your association seize these opportunities? Let's take a look at the top trends to incorporate into your e-learning strategy.
Trend #1: Associations are Going Digital
Millennials born between 1981 and 1996 are the largest generation in the U.S. They represent a huge opportunity for new association membership.
Millennials tend to be eager to learn and open to new affiliations. As digital natives, they have a unique set of preferences. Technology devices and internet apps are second nature to them.
To attract them to your association, ask these questions:
What are you doing to help millennials with their personal growth?
A one-size-fits-all strategy won't work. You need a new millennial-focused strategy.
Yes, millennials are interested in career advancement. But you have to remember they're also deeply interested in community service and non-professional causes. If you're not providing opportunities within this context, you're not attracting millennials.
Are you creating innovative learning opportunities?
When content is stuffy or old-fashioned, it won't resonate with millennials. They're used to having learning opportunities right at their fingertips.
Deliver fresh, flexible e-learning offerings with content that's tailored to young adults. And deliver it in smaller chunks, with maximum personalization.
Does your content feel shareable and social?
Millennials grew up in a world infused with social opportunities. So if your association's marketing and communications seem like it's outside the conversation, it won't appeal to them.
Forward-thinking associations are looking for new ways to present educational programs. They should feel collaborative and interconnected. The more social they seem, the more they catch millennial attention.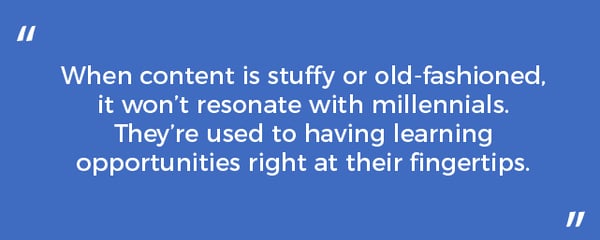 Trend #2: Video & Visual Media is a Must
Streaming video has become a dominant force in our world. For almost half of people under age 25, YouTube has replaced all other forms of media consumption.
U.S. adults now spend almost 6 hours per day engaged with videos. If your message isn't visual, it's probably being ignored. Here are some factors to consider.
Learners enjoy educational videos
People of all ages are now comfortable using smartphones for educational video assignments. After all, they already share social photos and videos daily.
Video content should be brief, focused, and engaging. In other words, ditch the static webinars and focus on creating a steady stream of short videos.
They want two-way communication
We've passed the era of one-way information channels. Effective learning products now invite two-way social media interactions.
Traditional webinars and e-learning media are closed by design. Aim to incorporate social messaging into these activities. Create open opportunities for collaboration and you'll make more impact.
It's okay to be entertaining
Association content should be entertaining as well as educational. Show that your organization has a welcoming personality.
Think about how people watch sports and entertainment, and apply the same concepts to your learning programs.
Introduce Twitter chats and Pinterest boards to build a sense of community.
Trend #3: Content Collaborators are Welcome
When it comes to building association membership, collaboration is where it's at. Your current and potential members are full of valuable information to share.
It's time to shake off the old model of compiling association facts and posting them all on a boring web page. No matter how accurate it is, static data doesn't boost engagement.
Instead, associations must foster an environment of collaboration. The best way to do it? Cultivate conversation in a flexible, open environment that welcomes chat apps and social media.
Share something, and outright ask for feedback. Be open to new ideas. Show your members that you welcome their thoughts.
Trend #4: Self-Promotion is the New Normal
Association e-learning isn't about winning a trophy. It's just not about collecting credentials to boost the chance of a promotion. It's a strategy to promote personal growth.
Let's face it: A major reason people join associations is to self-promote and build personal success. Associations should be comfortable with this fact. Show you understand this desire, and teach your professionals how to do it well.
Are you providing your participants with opportunities to self-promote? Are you helping them build their portfolios? If you can, they'll be grateful for years to come.
Take Your Association to the Next Level
Do you need more information about association trends and educational opportunities? Does your association need to boost revenue and membership? We can help.
The team at NextThought offers high-quality association educational services. We'll help you create dynamic, interactive content that resonates with a new generation of association members.