Last Thursday, I had the pleasure of sitting with both NextThought and ILED colleagues at the Oklahoma Journal Record's 2016 Innovator of the Year Award ceremony. Both NextThought and ILED were finalists for the award, and it was a good opportunity to have informal discussions regarding recent progress and future goals.
The innovation process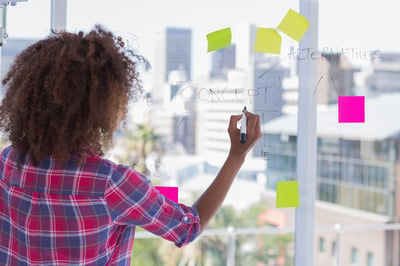 In its own way, every successful product goes through a common innovation process. It begins with a Discovery phase, in which ideas are tossed about and discussed, and endless questions are asked about potential markets and users.
Discovery evolves into modeling in the Understand phase, as teams create models that represent current market products and user behaviors. With a clear understanding of the opportunity and need, innovation continues into an Envision phase. In this phase, product teams create new product design models and prototypes that represent an innovative product vision based on a clear understanding of the market. Finally, after iterative testing of the design model, teams finally begin the actual Build phase and create a "Version 1" product for launch.
Truly innovative products are the result of a continuous innovation cycle that repeats these phases.
LEM courses or programs
The learning environment model above provides a useful visual outline of the innovation process. This can be applied to any kind of process or product innovation, and is particularly valuable when designing and creating learning environments such as courses or programs.
In our work with partners, we combine Learning Environment Modeling (LEM) tools with evidence-based instructional and learning practices to design and build learning experiences that are innovative, and that can evolve and improve over time.
Workshop
Our innovation process for new projects begins with a two-hour design workshop. This includes:
- A formal introduction to LEM and the Learning Environment Modeling Language (LEML).
- A Focus Board exercise that captures what the partner sees as the clear needs, opportunities, and objectives for the project.
- A collaborative design exercise that results in a preliminary learning environment model, as well as key objectives and learning outcomes for the project.
This initial design workshop establishes a definite project vision and allows us to identify clear success and innovation elements. From a learning design perspective, the next steps in the process are:
Formalize the project model, desired outcomes, and evaluation criteria. These are particularly important for iterative innovation over time.

Create an initial Build Board with sample wireframes so the partner can visualize and respond to the product before we begin building it. The Build Board allows us to revisit and re-validate our questions about learning efficacy and content design.
After completing the Build Board step, we're ready to move the project to production. Depending on the complexity of the learning environment and our instructional or learning goals, we may also create a small prototype to further validate our expectations regarding specific components.
Finally, once the project is created and launched, we enter an evaluation phase where we collect data to test product assumptions and efficacy. Based on that evaluation, we work with the partner to begin the next round of innovation by beginning the entire process anew.
Innovation in learning requires a clear understanding of the market and learner needs, a commitment to learning efficacy, and a willingness to evaluate and iterate according to instructor and learner experiences. By combining LEM with our expertise in evidence-based learning and our commitment to a continuous innovation process, we help our partners design and build learning experiences that are innovative, and that can evolve and improve over time.