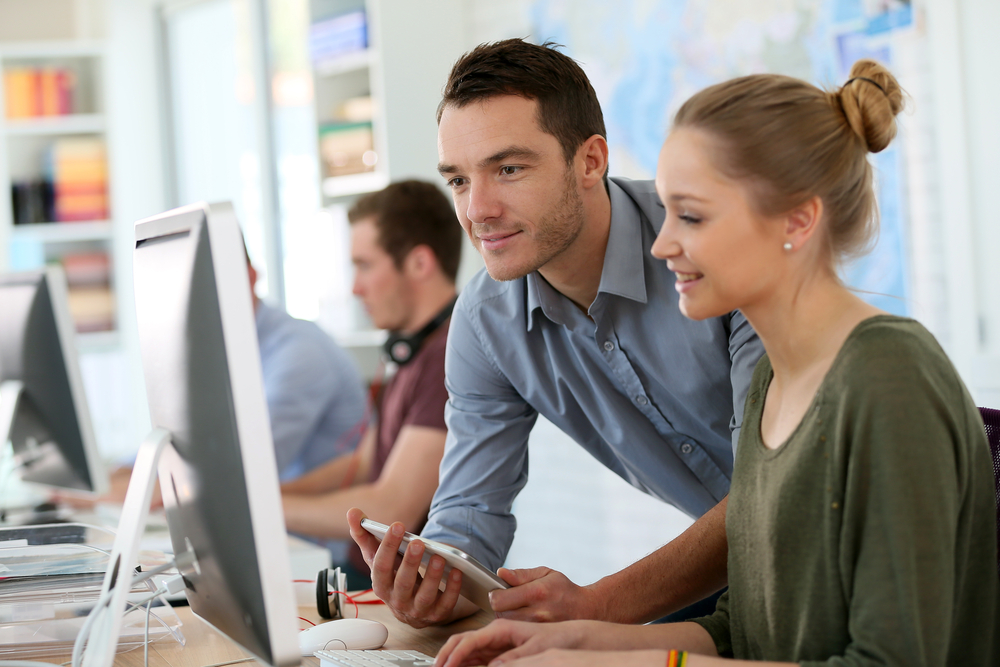 For today's learning environment architect, synchronous communication tools are an important and powerful element in the design and delivery of successful learning environments.
Synchronous communication is communication that occurs between two or more people at the same time but not necessarily at the same place. For example, a phone call is always synchronous; Twitter and Facebook can be either synchronous or asynchronous, depending on how they are used.
Synchronous platforms
Indeed, thanks to the rise of social and collaborative media platforms, our selection of synchronous communication tools and applications for our learning design canvas has expanded considerably.
Even five years ago, discussions about synchronous, online communication in learning occurred most often within the context of delivering virtual webinars or online classroom presentations. That narrow definition reduced application opportunities and generally limited our toolset to live video or audio conferencing tools that featured some form of integrated chat.
Part of the constraint with this mindset was that it required synchronous learning environments to be reduced to a single channel where every participant in the space could see and engage in all communication elements simultaneously. We insisted that everything being said or displayed be visible to everyone at the same time.
Assumptions of the platform
This approach was based on a series of assumptions related to traditional classroom instruction. One such assumption was that the effective sending, receiving, and processing of information occurred best via a single information channel that transmitted through a noiseless environment.
Unfortunately, we had mistaken synchronous communication as an actual model of instruction as opposed to what it really was – one mode of communication and interaction.
Synchronous communication does not – and should not – dictate the shape or design of our learning spaces.
Rather, it should be viewed as a mode of communication that can be applied broadly and creatively in a variety of learning contexts. In addition to the standard, mono-channel lecture or webinar presentations, synchronous communication tools can also be used as rich multi-channel enhancements.
Here are some examples:
As a method for providing multiple information streams for a live event – Often, we have more information to communicate than can be transmitted through a single synchronous channel, such as a lecture or webinar. In addition, some concepts are so complex that they require multiple perspectives or layers of elaboration. Adding an additional synchronous information and communication channel, such as a Twitter chat, can be an excellent way to address this need.
As a tool for reinforcing key topics or concepts in live presentations – Some topics are complex enough that it is difficult to check learner knowledge easily with a quick multiple choice question. For such concepts, it can be helpful to ask students to share their in-the-moment understanding or reflection via a second synchronous platform. This provides communication flexibility, as well as a mechanism for collecting learner ideas and incorporating them in other areas of the environment.

For massively distributed, interactive conversations with a large Community of Practice (CoP) – Facebook, Twitter, and Google+/Hangouts are excellent platforms for facilitating time-specific, topic-driven discussions with communities that are distributed across physical spaces and time zones. Examples of such conversations can be seen at OpenTeachingOU and Rhizomatic Learning.

As a learning environment alternative to accommodate different learning preferences – Having an additional synchronous communication channel can also be valuable as a way to personalize the learning environment. For learners who feel self-conscious or prefer to process their thoughts more deliberately before participating in discussions, a Twitter or Facebook channel can provide an excellent optional format for interaction.
Here is a learning environment model (LEM) that illustrates how we might use parallel synchronous communication tools to support in-class presentations. This particular model was created in one of our recent ILED Design Studio sessions.

Note the attention given to preparing learners for participation in the parallel synchronous channel (Twitter, in this instance). Another important aspect of this LEM is the focus on capturing the conversation via a tool such a Storify, and making it available asynchronously for continuous learning opportunities.