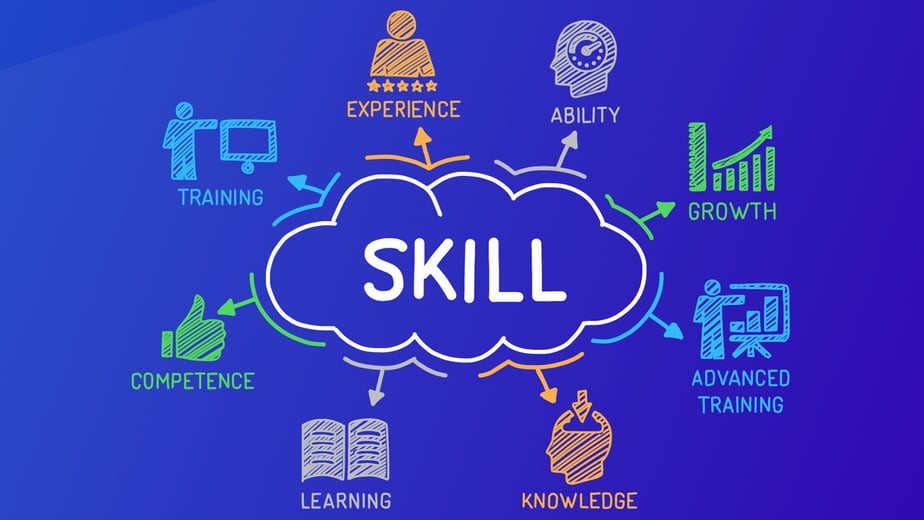 The landscape of needed skills is changing dramatically, and fast. While it's no surprise that there's a growing need for skills that attribute to technical roles, the need for softer skills like creativity, teamwork, communications, and others is becoming increasingly important.
With talent availability decreasing, learning leaders have been tasked with supporting their teams with tools and programs to help broaden internal capabilities, reskilling, and upskilling to meet the needs of the business. In fact, many employers are even shifting their hiring focus to value an employee's ability to learn, rather than what they've learned already.
Employees are looking for support to meet the needs, but the challenge for companies is in implementing a learning strategy that is effective in today's changing environment. In short, it has to evolve from traditional methods, with speed. To enable employees to quickly learn in-demand skills on the job, as well as learn new skills, companies will need to rethink the clunky obstacles that slow down the learning experience. The right technology can help in the following ways.
Content creation with speed
These days, employees need to adapt to new challenges with a high level of agility. The ability to create and update courses quickly — in a matter of minutes — is key. Reskilling and upskilling with speed depends on a few important factors:
A modular approach: Designing, revising, and distributing learning content fast will keep teams moving at the pace of change. Giving users the ability to create courses themselves helps to reduce learning boundaries.
Embedding third-party content: Reskilling with velocity doesn't always afford companies the time to update unique content, but sometimes external content can help fill the gaps on a particular subject. The ability to supplement content with third-party online resources enables learning leaders to craft impactful courses that learners can consume quickly.
Simple UX: This is important for users and administrators. If the experience is simple, time is better spent creating content and learning new skills, as opposed to learning how to navigate a confusing platform.
Making learning social
Many employees have felt the negative impact of working in a silo this year. When it's difficult for teams to connect, productivity slows down. Learning is no different. Reskilling for the future can't happen quickly if the learning environment is bound by one-way form factors. When dispersed workforces are the norm, learning technology has to evolve to connect us in the same way other modern social platforms do.
With social learning, learning experience platforms (LXPs) can help organizations cultivate communities of like-minded groups interested in similar courses, giving users the ability to leave feedback or comment, as well as engage with personalized feeds.
Meaningful analytics
When it comes to skilling quickly, finding the right content for learners can make a huge difference. Employees want the content needed to learn a new skill in the moment. The right technology can guide them and help clear blockers presented by short-term challenges — whether that's working with an unfamiliar tool or expanding their knowledge to do more.
For leaders, the power to get insight into what courses and content employees value most is critical to scaling learning activities for others and making upskilling at the organizational level happen much faster.
Move at the speed of skilling
As the need for broader skill sets among workforces continues to accelerate, organizations must look for learning tools that can help their teams keep up. Waiting for traditional solutions to adapt will only leave learners behind. Instead, leaders must look for LXPs that can increase the speed of skilling now.
By implementing technology that helps admins and users create content quickly and efficiently, connect learners socially, and use meaningful analytics to help deliver the right content to the right employees, workforces will be supported to reskill and upskill in no time.