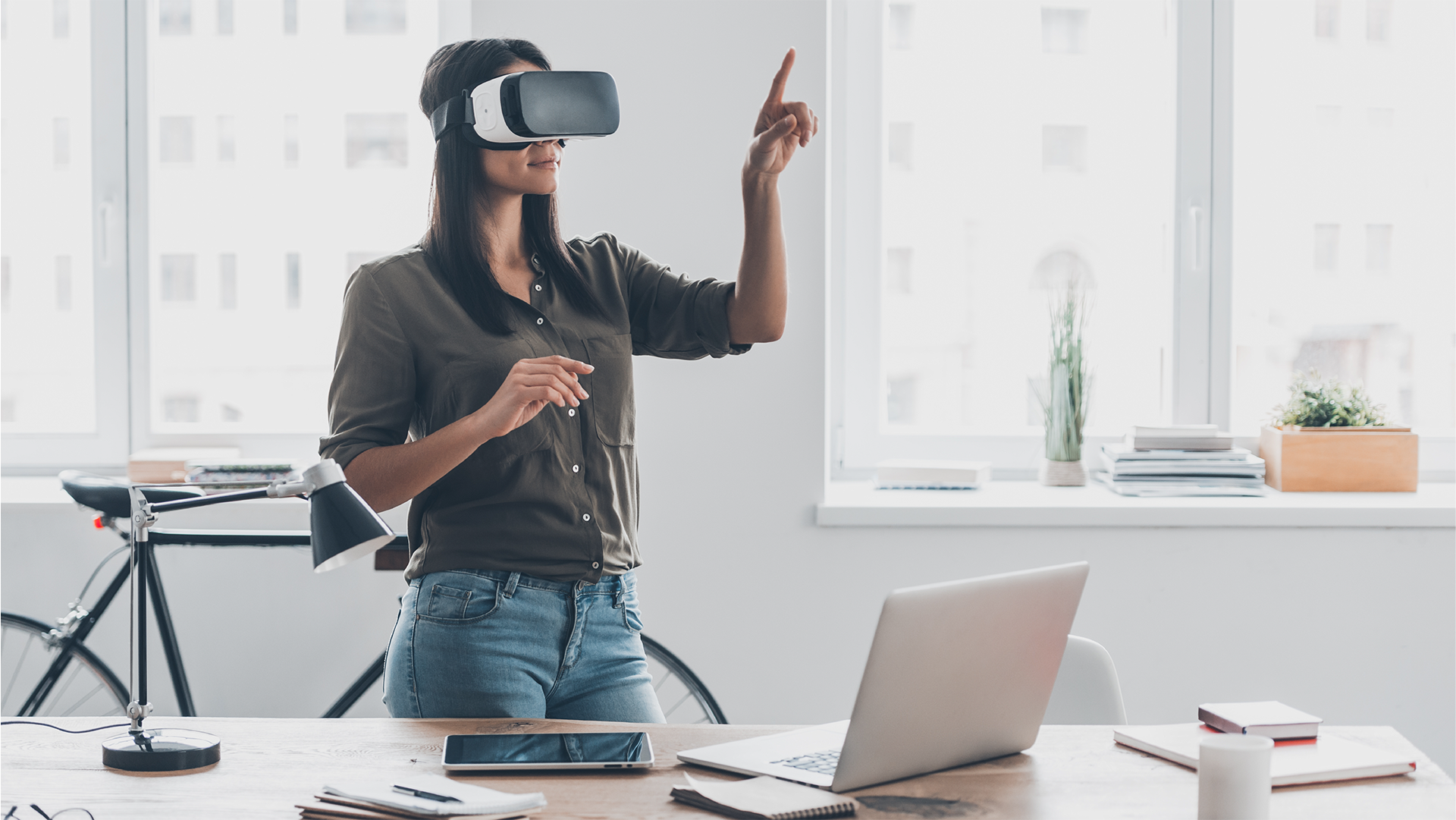 Virtual reality (VR) technology has been around for a few decades, but only in recent years has it begun to truly transform our experiences. Goldman Sachs predicts VR and augmented reality (AR) will become an $80 billion market by 2025. Walmart is training more than 1 million employees using virtual reality. And now, the COVID-19 pandemic has changed every aspect of our lives — from the workplace to healthcare — creating opportunities to integrate VR technology into your organization's learning and training strategies. Here are a few ways forward-thinking businesses are putting VR to use right now.
Build employees' soft skills
VR has the ability to create an immersive experience for learners — something they will never get from a typical online learning curriculum. When a learner puts on a VR headset, they can be inserted into real-world scenarios where they can role-play environments that may be difficult to recreate in standard e-learning platforms, such as dealing with difficult customers, improving presentation skills, and learning how to effectively give and receive feedback. Because these immersive experiences are virtual, employees have a safe space to make mistakes without the fear of "messing up" in front of coworkers or customers. And not only does VR create a safer and more forgiving environment for developing soft skills, employees prefer it. A survey of PwC employees found that 78% of soft-skills training participants preferred VR training to more traditional courses.
The same PwC survey found that employees who take VR courses:
Can be trained up to four times faster
Are more confident in applying what they learned
Are more emotionally connected to VR content
Are more focused
Hone emergency response skills
Skills for some situations are too difficult or too dangerous to practice or train for IRL. Take, for example, emergency situations, such as dealing with an armed robbery or getting help for a customer or coworker who is experiencing a health crisis. Virtual reality can help employees re-enact and role-play these unique, urgent situations and learn how to resolve them in the safest way possible.
Verizon is one company that has used virtual reality to train employees for being held at gunpoint. Head of learning and development Lou Tedrick says that employees who survived robberies say the VR version is true to life, and that "[t]he emotions that they felt during the robbery experience they feel during the VR experience."
Enable safe, effective learning from anywhere
As we're all aware, in-person events and training are canceled for the foreseeable future due to COVID-19. But with virtual reality, employees can attend immersive live training events or experience seminars or conferences from anywhere. They don't need to leave their couch or desk to have a hands-on experience. This is not only safer during a pandemic, but learners retain 75% of what they're taught with VR versus 10% from reading or listening to a presentation. The previously mentioned PwC survey found that VR learners are 3.75 times more connected to learning content than classroom learners. So, not only do you not have to put your employee training programs on hold during the pandemic, using VR will make that training more memorable and effective.
The time for VR is now
The circumstances and the technology are right to make VR a part of your learning program. Whether you want to help your employees hone their soft skills in an environment where it's safe to fail or ramp up your learning program in a remote environment, there's no better time to embrace virtual reality to enhance your employees' learning experience.