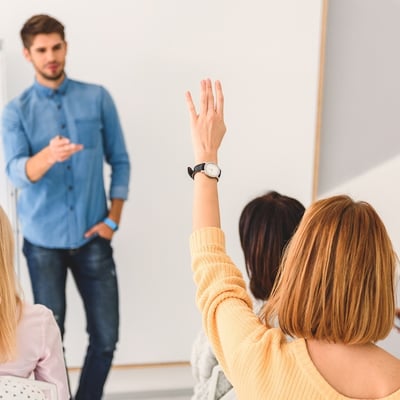 Have you ever attended a training session or completed an online course and left the experience feeling a little underwhelmed?
If the answer is yes, you are not alone. As a learning designer, I often talk to associations that struggle with this very issue. More often than not, the conversation shifts to engagement.
Years of research conducted by Malcolm Knowles on adult learning revealed that motivation is of great importance to adult learners, hence the need for creating professional learning programs optimized for learner engagement . Simply put, if the content is not engaging, then adults are not motivated to learn.
Motivating your audience
It is true that most professionals will complete a course in order to receive a credential or obtain a certification, even if the training is unengaging. However, presenting content in a more engaging way will increase the likelihood that your members will get more out of it, which will boost retention and future membership opportunities.

Below are five strategies that you can implement to motivate your members and better engage them in the learning process.
1. State your Objectives
Tell your members what they can expect from your course. Communicating how the content will enhance their skills and improve job performance will increase their motivation and interest in taking your course.
2. Make it Relevant
Adult learners have experience and they want to apply their knowledge. Provide opportunities for members to express what they've learned and how it pertains to them in the workplace.
3. Be Creative
Avoid being too prescriptive when designing your course. Instead, allow your members to showcase their learning in a variety of ways. This will make the experience more dynamic and interesting.
4. Socialize Learning
Facilitate opportunities for social engagement in your course. Much of what we learn comes from other people and their experiences. Encouraging discussion and peer feedback throughout your course will greatly enhance the learning experience.
5. Be Flexible
Although webinars are still popular, many associations are seeking a more flexible solution. Consider putting your course on a platform where members can access content and engage with other professionals any place at any time.
Increasing learner motivation through engagement will enrich your course offerings and improve the quality of professional learning for the members in your association.