In part I of this two part series, we discuss how elearning can be a major advantage for growing associations. In part II, we'll discuss a tool for planning your elearning strategy so it aligns with your organization's goal and vision.
Recap from 2017 ASAE Technology Conference At the 2017 American Society of Association Executives Technology Conference in Washington D.C., we delivered a presentation titled eLearning: The Art, Science, and Technology of Adult Education. During this session, participants were introduced to the basic considerations for creating successful elearning experiences for their organizations. We also outlined techniques for creating successful elearning strategies in your organization.
The first part of the presentation focused on the "Art" of elearning. This section explored the relationship between the learning environment and learning experiences. The next section of the presentation focused on the "Science" of elearning. This section addressed assumptions people have about learning and techniques for designing successful learning environments. This included avoiding common traps with managing cognitive load. These include optimizing the right information and avoiding extraneous information in elearning presentations. In the section about technology we discussed aligning goals, strategies, and technologies to achieve specific elearning efforts. The presentation concluded by giving participants an opportunity to practice creating an elearning vision for their organization.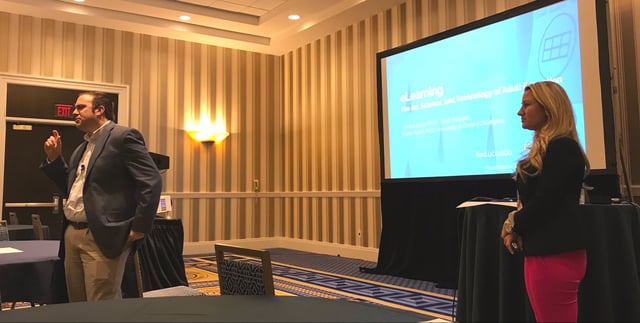 The session was high-energy and provided people a great way to begin thinking about opportunities for elearning in their associations.
Here are the top three things to remember from the session:
There is an important relationship between learning environments and learning experiences.
eLearning environments should be designed for how people learn.
Technology should support learning and performance goals.
In this post, we'll dive a bit deeper into what makes a successful elearning strategy and highlight an upcoming opportunity to continue your learning.
Why do I need an elearning strategy?
One of the most important roles today's leaders fulfill is managing their organization's learning function. This means not only providing learning opportunities that include relevant content, but designing experiences that are practical and delivered in accessible ways.
For many organizations, this means exploring the role elearning plays in meeting the learning needs of employees and association members. In addition to the learning benefits, successful elearning can open new revenue and growth opportunities for associations.
It can be easy to say, "let's get into elearning", but the reality is this goal can be much more complicated than many leaders realize. Any successful elearning effort requires a strong vision and a supporting strategy.
The eLearning Advantage
eLearning describes ways of supporting learning experiences using a broad portfolio of digital delivery methods. This often takes on the form of online courses and lessons, but can also include mobile learning and other more advanced technologies such as virtual reality.
An elearning strategy offers new ways of reaching learners and creating new value. Advantages can include better learning outcomes, increased satisfaction, growing registrations, and a wider audience for learning opportunities.
While elearning offers promising opportunities, many leaders are challenged with how to initiate an elearning strategy that gets results and is sustainable. The complexity involved with creating a successful elearning strategy can be overwhelming and there are relatively few practical resources to help.
In this post, we discussed why you need an elearning strategy and the benefits that come with intentional planning. In part II, we'll share a simple-to-use tool for creating your elearning strategy and making your vision a reality.
We're also hosting a webinar on Tuesday, January 23 at 11:00 a.m. - Noon, Central, where we will demonstrate techniques for creating elearning strategies along with sharing real-world examples.