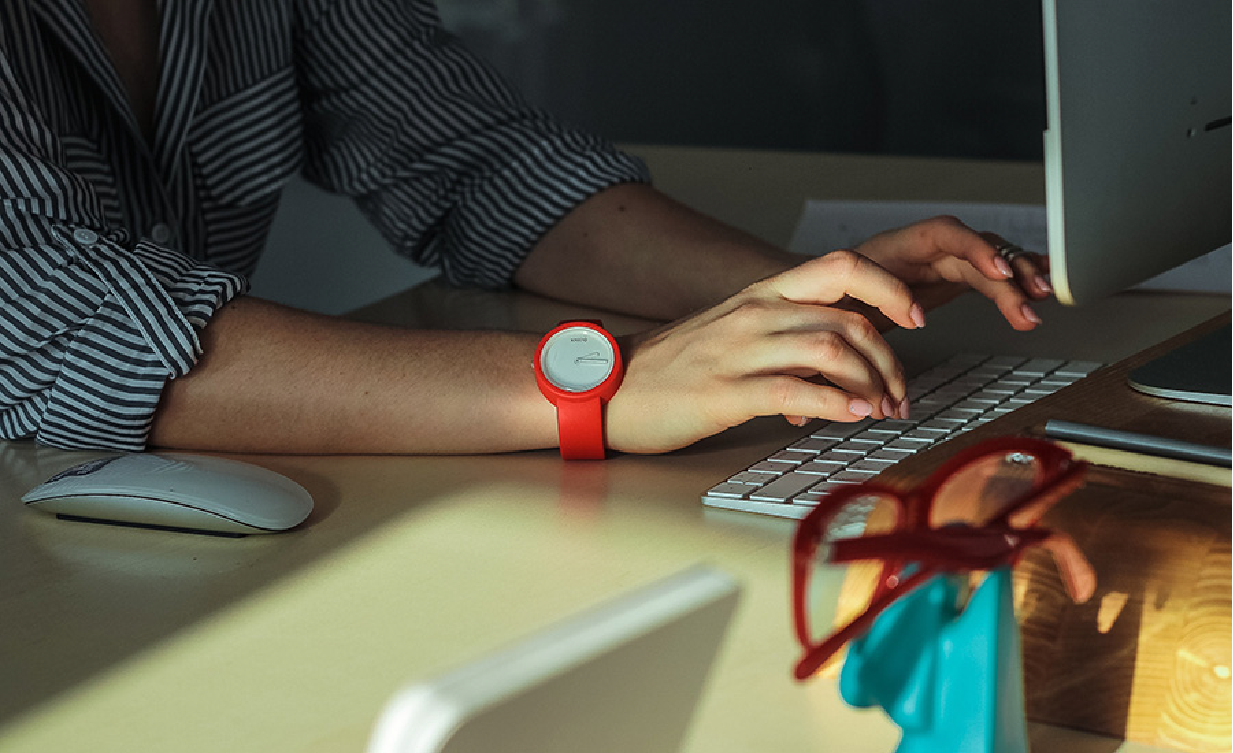 One of the most important roles today's leaders fulfill is managing their organization's learning function. This means not only providing learning opportunities that include relevant content but designing experiences that are practical and delivered in accessible ways.
Why Do You Need an E-Learning Strategy?
One of the most important roles today's leaders fulfill is managing their organization's learning function. This means not only providing learning opportunities that include relevant content but designing experiences that are practical and delivered in accessible ways.
For many organizations, this means exploring the role e-learning plays in meeting the learning needs of employees and association members. In addition to the learning benefits, successful e-learning can open a new revenue stream and growth opportunities for associations.
It can be easy to say, "Let's get into e-learning," but the reality is this goal can be much more complicated than many leaders realize. E-learning is more than technology; it is all about creating new value for your organization and your association's members. Therefore any successful e-learning effort requires a strong vision and a supporting strategy.
The Advantages of E-Learning
An e-learning strategy offers new ways of reaching learners and creating new value. Advantages can include:
• Better learning outcomes
• Growing registrations for member education
• Higher satisfaction with continuing education programs
• A wider audience for learning opportunities creating more dues revenue
Let's look at how a great e-learning strategy can do all of this.
Accessibility & Flexibility for Members
eLearning describes ways of supporting learning experiences using a broad portfolio of digital delivery methods. This often takes on the form of online courses and lessons or online training, but can also include mobile learning and other more advanced technologies such as virtual reality.
The many web-based platforms and digital learning solutions available today make e-learning by nature flexible and accessible. Learning management systems (LMS) provide central hubs where online learning courses can be built and curated by staff and easily accessed by students.
The capabilities of your LMS should allow you to create online education materials and resources that can be easily modified to fit your association's and members' goals. It should also provide your members with excellent user experience.
Better accessibility and flexibility of e-learning courses gives members a more satisfying learning experience where they feel their needs are being considered and met while they pursue their learning goals.
Creating Value for Members
Creating value for members means giving them something a little bit extra. You can do this with e-learning courses. Online courses and training can utilize engaging teaching tools not available in traditional education to help students and trainees learn better in more interesting ways.
The value is in using e-learning to more effectively teach so that learners are more successful in their learning and come away with a better understanding of the subject matter.
Growing Your Membership
Creating value doesn't have to be limited to existing members. You can give your association value in the eyes of potential members too by offering e-learning opportunities through different learning technologies and extended enterprises.
This can be done with goals in mind for marketing, talent acquisition, or talent development. When individuals see the quality learning experiences you offer, they will want to join or otherwise work with your association.

5 Steps to Creating an E-Learning Strategy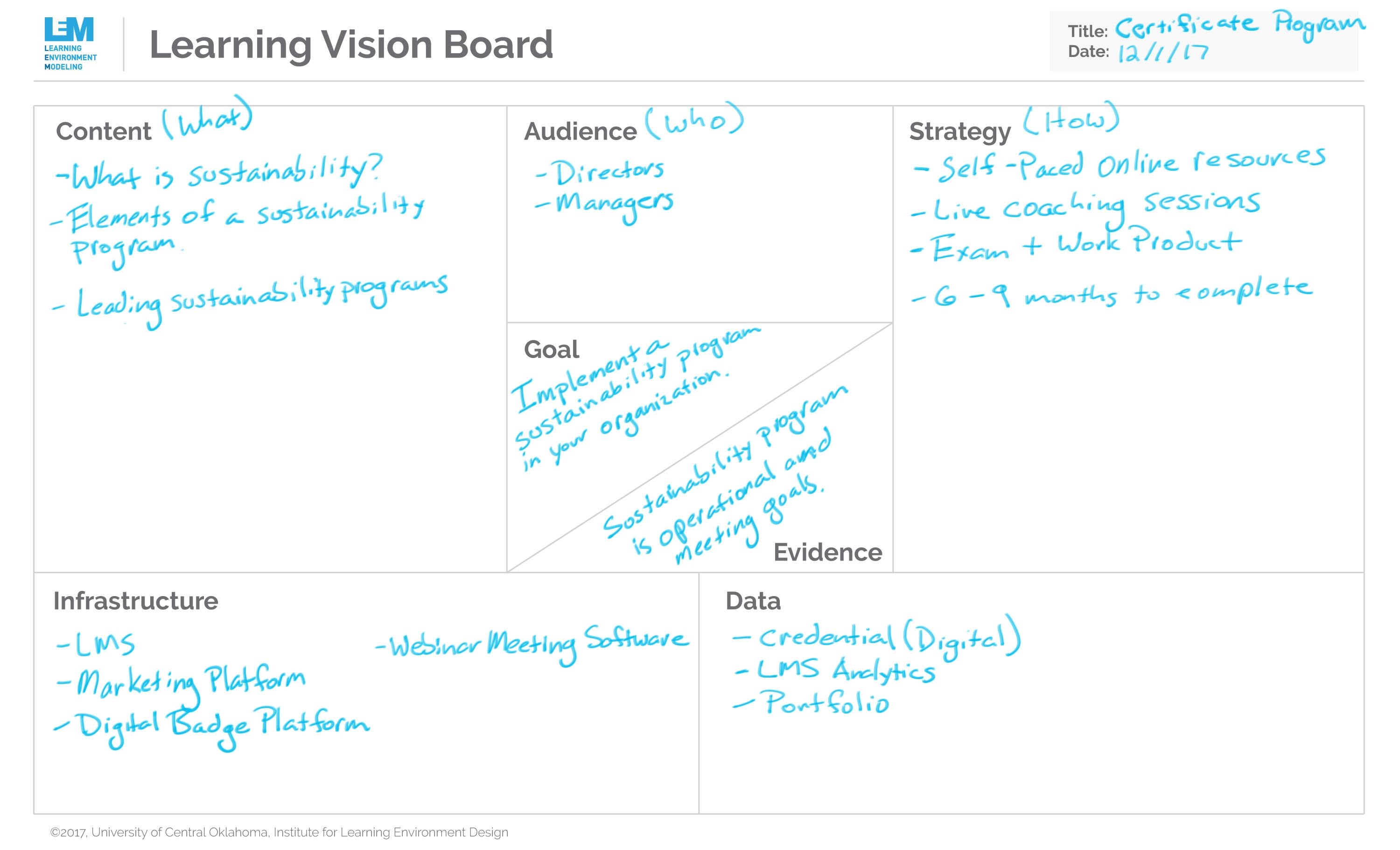 While e-learning offers promising opportunities, many leaders are challenged with how to initiate an e-learning strategy that gets results and is sustainable. The complexity involved with creating a successful e-learning strategy can be overwhelming and there are relatively few practical resources to help.
The Learning Vision Board can be used for planning e-learning. This tool breaks down learning strategies into manageable decision points that all support a broader vision and was designed to help leaders consider the essential elements needed to implement a successful e-learning strategy for their organization.
The Learning Vision Board organizes the core components of a learning vision around a goal and evidence. The content, audience, strategy, infrastructure, and data are all connected to the goal and evidence and are used to support a vision for learning. For example, a goal is meaningless if it does not align with what the audience needs and wants from a learning experience. Furthermore, the infrastructure needs to be in place to provide the capacity to support these efforts.
One of the major considerations that arise when creating an e-learning strategy is how all the pieces work together to support your organization's goals and the goals of the learner. To achieve this, your e-learning strategy should create a unified learning environment that is connected and optimized for your organization. The Learning Vision Board helps to align these core elements so your e-learning efforts get results.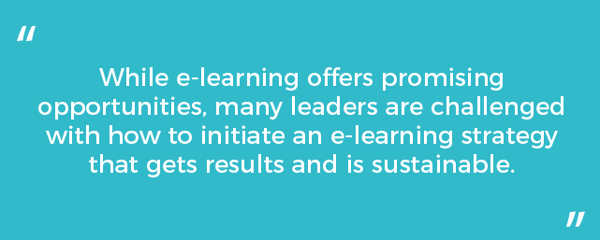 1) Set your goals and how you will measure progress
Your first step in creating an e-learning strategy is to make goals so you and your team know what you're working towards. This means looking at "why" you're adopting e-learning and what you hope to accomplish by doing so. From there you can identify clear goals that follow the reasons for using e-learning and inform every future decision during the process.
Often the goals are financial.
You should also establish a means for measuring your progress. What evidence is required for you to know that you are moving towards meeting your goals? Consider what signs or accomplishments will signify that you are moving forward.
By establishing early on what your goals are and what the evidence of progress will look like, you will be able to gauge how well your plan is working as you work towards implementing e-learning for your association and make changes to support success as needed.
2) Define your audience
You've probably heard the term "know your audience." It applies to many situations, including e-learning strategy. Many decisions made while you're planning and implementing e-learning courses will depend on who they are for. It will be easier for you to make these decisions when you have a clear definition of who your e-learning efforts are meant to benefit in the end and what their needs are.
3) Decide on your content
The needs of your audience will largely decide your content. What do they need to learn? What is the best way to teach the course material? What is the best web-based environment for them to learn in? What learning technologies will best meet their learning needs? What support can we provide them? Will social learning add to the experience?
There will be a lot of "what" questions about your content. Fortunately, for every question, there is an e-learning design solution as you explore the best ways to deliver an effective learning environment for your members.

4) Set up your data & infrastructure.
The "how" of setting up your data and infrastructure may be daunting at first, but that's where a great learning management system comes into play. Your LMS will be an e-learning environment for members and an analytics tool for you. It will provide the platform where you build and house your online courses and materials and where students will access them.
A good LMS is necessary for effectively doing everything required of an e-learning association, so it's important to find one with all the capabilities you need to provide learners with engaging learning features and track student performance and activities. Pick the right LMS while still strategizing to make all future e-learning management that much easier.
5) Fine-tuning your strategy
With the basics out of the way, it's time to look at the smaller details of your strategy and make decisions on how your e-learning courses should work for students. For instance, should courses be self-paced or guided? Will video content be all pre-recorded or will there be live elements? How long should it take to complete a lesson or a course?
Now is when you're in the nitty-gritty of what will make your online courses successful. Keep in mind everything you laid out in the first four steps to give yourself guidance. Most importantly, remember your goals for your e-learning strategy.
Partner with a Learning Designer
It's one thing to put on paper a goal to implement e-learning for your association, but it's another to truly put it into action. That's why creating a strategy is so important. It bridges a single idea and the action. That still doesn't make it easy though.
What does make it easier is working with a learning designer? An experienced learning designer knows all the ins and outs of creating the best e-learning environment for your association. They know how to use all the offerings of LMS platforms and tools to help you meet your goals of increased value and membership for your association.
If you're ready to get your e-learning strategy going, NextThought invites you to talk to us about your association's goals and how we can make them happen.