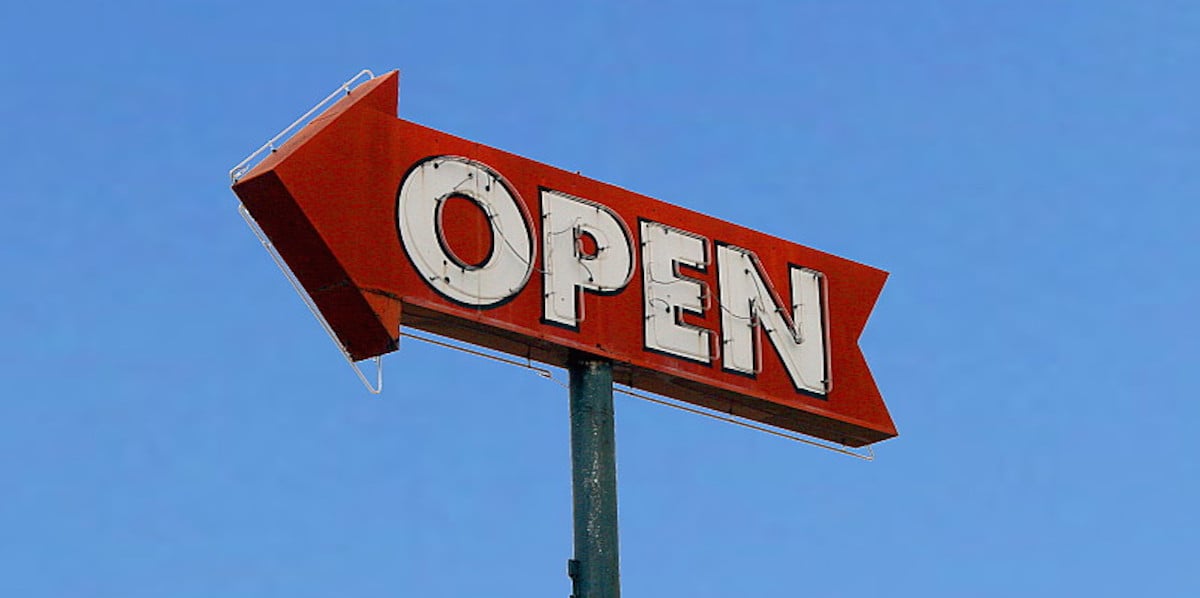 We're starting our #Open TeachingOU / #OpenOK Twitter chat series for the semester this Friday at 10:00 AM Central. As we get ready for another enjoyable and energizing series of community events, I thought it would be fun to put together this list of reasons everyone should be excited about what's happening with open and affordable content (and teaching) in Oklahoma Higher Education.
10 reasons for open and affordable content
1. There's more momentum for open and affordable content in Oklahoma now than ever before!
More instructors are using open and affordable content than ever before. More of our libraries (and librarians) are curating open and affordable content and providing support for its use. A strong community around open and affordable content has emerged in our state and we've finally moved beyond the "early adopter" and "isolated user" stage.
2. We already have an abundance of resources waiting to be harvested or packaged!
Conversations between librarians have picked up across our state universities and colleges, and we're realizing we have a wealth of resources just waiting to be curated, packaged, and shared with faculty. A surprising number of open textbooks and collections by subject have already been created!
3. It takes a village and we have one!
I'm not just talking about our #OpenTeachingOU / #OpenOK Twitter chats. We've had staff and faculty from 18 public universities and colleges working together for the last six months to determine how we can create a framework that makes it easy to discover, adopt, and implement open and affordable content for Oklahoma courses. We now have more faculty and librarians than ever before curating and sharing content. We also have a growing number of Provosts and Deans speaking out about its importance.
4. Oklahoma librarians have your back!
Oh, and did I mention that the librarians at our public colleges and universities have our back in a big way? They're on the job, curating content for LibGuides, providing support for faculty and program directors, and looking at ways to leverage existing library subscriptions to provide at-no-additional-cost resources for students.
5. The Oklahoma State Regents for Higher Ed see this as a priority!
That's right, the governing board for Higher Education in our state is actively supporting research and planning related to affordable content. Let's face it, when the leadership is on board things are bound to go faster and get bigger. That's certainly the case with the OSRHE. They're serious about continuing to improve the learning and teaching experience across Oklahoma institutions.
6. Amazon is pitching in!
Yes, you heard me. Amazon is getting into the OER space as part of their education initiative. With Amazon Inspire, "Educators will be able to curate open resources, self-publish material they have developed, and put a school's entire digital library that is open and freely available online." This is yet another sign we've turned an important corner in the open and affordable content space. Oh, and if you haven't heard about it yet, check out the freshly announced Textbook Liberation Fund from Skyepack.
7. Oklahoma faculty attitudes are definitely changing!
According to a recent survey distributed by the Affordable Content Working Group for the OSRHE, 74% of faculty at Oklahoma public universities and colleges have an awareness of OER. In addition, it appears that faculty perception of the quality of OER is gaining when compared to traditional publisher content:
Traditional publisher content as rated by faculty – 17% excellent, 54% good.
OER content as rated by faculty – 8% excellent, 48% good.
8. Oklahoma faculty are already using OER!
And, oh yeah, Oklahoma faculty are definitely putting their attitudes into action. 59% are already using OER as primary or supplemental resources in their courses.
9. Research supports the use of OER in our courses!
Since we're talking Higher Education, it's important to note that research supports learning efficacy related to the use of OER in our courses. In the largest study of its kind, a group of researchers examined the use of open educational resources (OER) and found that students who used OER in their undergraduate courses performed as well as or better than those assigned commercial textbooks. The project was undertaken by researchers from Brigham Young University, the Michigan State Department of Education, and Lumen Learning, a company focused on the use of open courseware.
10. And, of course, there's #OpenOK!
Last, but certainly not least, a growing number of Oklahoma educators gets together 3-4 times each semester to chat openly about open content, open pedagogy, and affordable learning solutions in our state. This is the kind of community that serves as a foundation for long-term, sustainable progress.