Your association or organization should have a social component to your online training because it will help you:
- attract new members
- retain members
- create new revenue
Information & Usable Knowledge Are Not the Same Things
Before information can become usable knowledge, the student has to connect that information to real-world situations and concepts. Your association's educational programs not only should provide info, but it also should foster these important connections that turn information into usable knowledge.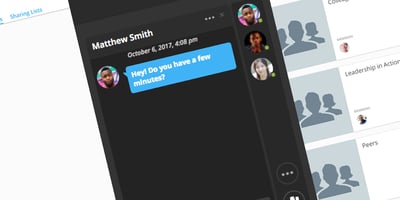 Information is everywhere on the internet. Some of it is carefully curated, well-organized, and available in a wide variety of formats – text, video, audio, and even animation. It's easy to think that almost any reasonably intelligent and motivated person, can put together their own effective DIY information-learning program.
That is often not true.
Students need:
- a dynamic learning environment
- opportunities to practice and receive feedback for what they learn
- socialize with other students in a shared context.
A good learning management system (LMS) for associations can offer all of that and help members convert information into usable knowledge.
Collaborative and Community-based Learning Lead to Knowledge
Learning management systems for associations come with features that can help you create engaging content for members. Additionally, they should include social components that connect members and provide them with a collaborative and community-based e-learning environment.
This helps them engage with other students to practice what they're learning together while building stronger connections with the information they're studying. A more enriching experience converts that information into lasting, usable knowledge.
For example, NextThought's LMS platform offers multiple features for communication between groups and communities. Members communicate with each other at almost every location in the platform using images, text, video, and markups. Contacts are visible and easy to open chat sessions with at all times.
The member benefits are innumerable in a social learning environment like this. Learners:
- discuss information and insight
- propose new ideas
- ask questions
- build connections with each other and course subjects in ways that support deep and usable understanding.
Make Your Association's Continuing Education Stand Out
People, including your association members, are increasingly turning to open and free information on the web to learn new things. This is especially true of millennials.
There are free YouTube videos offering valuable information on subjects as diverse as financial reporting and animal husbandry. This plethora of free expert information creates a more competitive environment for your association's e-learning content. Value propositions like, "convenient," and, "...from dependable experts," no longer work.
No matter how well good your educational content is, the student needs more than just a lecture or a video. They need:
- practice
- dialogue
- feedback
You want your association training programs to provide your members with community, experience, and opportunities for reflection. Associations and organizations should be building collaborative and community-based learning experiences for their members.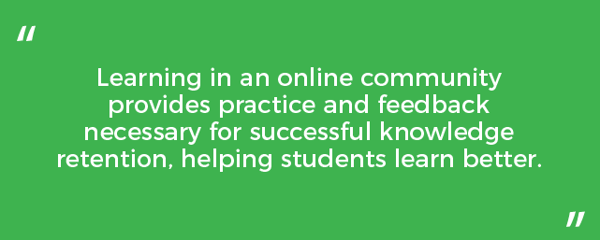 The Benefits of Learning in an Online Community
Learning in an online community provides practice and feedback necessary for successful knowledge retention, helping students learn better.
For associations looking to add value to their e-learning offerings, the word "better" is key here. If you hope to stand out, your member benefits need to be better than anything your competitors offer. That means you need to be able to help your members reach their goals in more effective and efficient ways.
You can use your LMS to provide better member benefits and attract new members by creating a social learning environment on your platform that helps them meet their goals.
Here are three more benefits of learning in an online community for associations to consider as they seek to gain a competitive edge:
Benefit #1: Provides high quality continuing education
An online community provides a high-quality product that isn't easily reproduced on YouTube, social media, uncontrolled discussion forums, and other free platforms. Most people aren't going to take the time to seek or build a community like the one that is already inherent to your association.
Your controlled social learning platform provides a much better user experience. Have you seen the average YouTube comment section?!
Elearning content and online courses with a social component deliver huge value, over DIY solutions, to your members. This meaningful difference can translate to more non-dues revenue.
Benefit #2: Highlights your members
The most valuable asset that your association or organization possesses is your membership. In an online setting, your members can shine as they share their expertise and experience with the rest of the community.
DIY learners that don't have access to a solid association or organization training program, have to spend time verifying the authenticity and value of the free training that they find.
When your association or organization provides social learning, your members can trust the source. The training is valid because it comes from you and your membership.
The ongoing discussion and feedback among your knowledgable members provide other advantages. They:
- Create ideas and content to improve future training courses.
- Provides a shared context to promote your other products and/or programs.
- Makes your association and organization more valuable in the eyes of your members.
Benefit #3: Creates opportunities for added value through mentorship & networking
Mentoring is critical to professional development.
An online community offers associations and organizations an opportunity to provide added value to existing members via mentoring opportunities. Many of your members may not need all of the credentials and certifications that you offer. Adding a social component to your training will allow inexperienced members to connect with the more experienced members, providing value to both.
View an LMS with an Online Community & Collaboration
An online learning community can help your association or organization:
- attract new members
- retain current members
- create better and new revenue streams
To make this happen, you need an LMS solution that has the right social components to make all of this possible. NextThought understands what tools and features are necessary in an LMS for associations looking to create a comprehensive, collaborative online learning experience for its members.
If you're in the market for an LMS that will add value to your association's e-learning environment with more social and communication capabilities, request a demo today to see what NextThought can do for you.