We all participate in some form of online content curation whether we realize it or not. From customizing the Apple News app on your iPhone to unfollowing Facebook Pages whose posts are no longer relevant to your interests, as a society we've become accustomed to personalizing our online spaces.
Lately, I've found myself spending more time on Pinterest than any other social media. I believe this is because Pinterest combines several attractive elements – sorting information via boards, a sense of community, and resources on a broad spectrum of topics such as business, history, fashion, and culinary arts.
Why Pinterest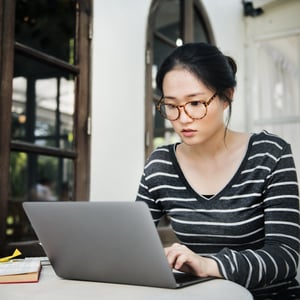 At a recent ILED Learning Design Studio session, we discussed the concept of Pinterest as a learning environment in the ILED course Introduction to Learning Environment Design. There are four main categories of learning environments – personal, group, organizational, and communal. While my initial instinct was to regard Pinterest as wholly a personal environment, a discussion with my manager at NextThought made me reconsider this assumption about the nature (and purpose) of the site.
Stacy Zemke is an adjunct professor at OU and Director of Learning Services at NextThought. We were discussing classroom tools this week, including the way she's used blogs, Twitter, and Pinterest in her courses to add creativity to assignments. She admitted that even after several years, she still has concerns about students' reactions to these online activities. The question she's mulled over is, in essence, "Is it right to co-opt tools that were made for personal use into the public domain of a classroom? Am I ignoring their right to personal space?"

The more we discussed it, I could see Pinterest as an informal, communal learning environment.
And example
A recent experience from a wedding I was in came to mind. There were eight bridesmaids – all wearing different colors and living in different states – coordinating our dresses via a shared board to make sure they flowed smoothly. The ease of uploading Pins rather than emailing or discussing via phone was immeasurable. While there is the ability to create a private space on Pinterest via secret boards, part of the appeal of the site is seeing other public Pins and finding new inspiration from their starting points.
This lead me to the realization – isn't that what good teachers do? Give students information and send them into the world to find their own application of that knowledge?
In many ways, I think Pinterest has been a communal space for continuing education all along.

While opinions on the topic vary, I would argue the educational and community-building benefits of Pinterest outweigh its privacy cons. Whether you're a classroom teacher in need of ideas for a new lesson plan or an executive looking for time management strategies, Pinterest offers resources that could meet your needs.

The pressure to craft an online persona can feel unwelcome, but I feel confident Millennials and upcoming generations will continue to innovate, test new coping strategies, and share their curated content online to benefit the community.
Today's Millennial Monday cartoon: