A Gallup poll shows that 87% of Millennials find development to be important in a job. So in the information age, what kind of development programs can companies offer for Millennials to feel it's time well spent?
I watched the improv show Whose Line Is It Anyway? for countless hours as a child. Even now if I see a re-run playing I'll stop channel surfing and settle in. Besides being hilarious, part of the fun was that no answer was wrong as long as it got a laugh.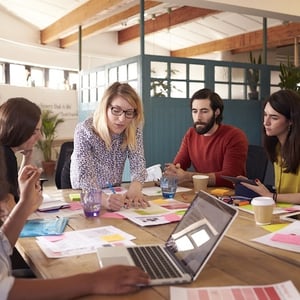 Drew Carey opened each episode with, "Welcome to 'Whose Line Is It Anyway?' the show where everything's made up and the points don't matter." This catchy tagline came to mind when I read Gallup's report, "What Millennials Want From Work and Life." Despite the desire to be interested in their work, just 29% of Millennial workers report attaining workplace engagement. So in a scenario where 87% want to develop or improve, and only 29% seem to reach that goal, how do we judge career success?
Attracting Millennials
Here are five things companies can provide to attract the 73 million Millennials available in the job market:
1. Give your employees the opportunity to try on different hats.
One of my favorite things about working for NextThought is that we allow employees to try new roles based on their areas of skill and interest. I started as the Head of Transcript Management, moved to Project Management, and now am engaged in both Marketing and Learning Design. This makes me far more valuable to the company than if I only knew how to do one task. If you can show how your organization not only allows but actively encourages employees to diversify their career portfolios, you'll increase your chances of keeping productive Millennials in your employ.
2. Highlight your company's interest in career mentorship.
You'll build a competitive advantage if you can show that your company cares about the development of its employees. It's difficult for employees to produce great results if no one's giving them constructive guidance and appreciative feedback. Develop a training program to help new hires acclimate to the company culture, or maybe pair senior leads with junior staff as internal mentors. Provide meaningful connections inside of your company and you'll have more resumes than your printer can handle.
3. Empower your employees.
A good manager talks with their team about desired outcomes – a bad manager micromanages workflows. The appeal of being authorized to craft your own workflow can't be overstated. It's more valuable in the long run for employees to learn how to self-manage than it is for them to cater to the boss's wish list. Offer employees that crucial experience and they'll prioritize it over other job selection factors.
4. Show your open door policy on feedback (and feedforward).
Robert Louis Stevenson said, "Anyone can carry his burden, however heavy, until nightfall." While this is true, toiling away indefinitely is not on anyone's list. The ability to give honest, productive feedback to managers and co-workers – including requesting assistance when challenged – makes hard days at the office feel fleeting. Valuing anytime feedback demonstrates you appreciate every employee's insights, not just those at the top of the food chain.
5. Show your organization is more than "just a job."
In a previous post we discussed the evolution of generational values. Part of Millennials' expanded work/life balance view is making time for community service. What an opportunity! Why volunteer on your own when you can do it with your company and feel good on a personal and a professional level? Use social media and newsletters to support charities or causes that are important to the DNA of your organization. While this may not technically count as "workplace" development, your Millennial employees will leave work each day feeling they've done something, however small, to make the world a little bit better.
Introducing our first Millennial Monday cartoon below: